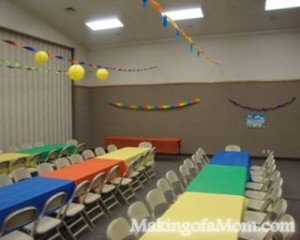 So last week, we had a party for the kids at our church. It was a Fiesta to celebrate the new school year and we had so much fun! My girls and I went into the the church gym the day before to get all the tables and chairs set up and then get it all decorated. It took 4 hours, but it looked so fun!!
I purchased the tables covers, games, pinatas, bulk candy, and everything for our goody bags (bags, bookmarks, pencils, erasers, stickers) from Oriental Trading Company.  I love them!  They shipped it all super fast- only 3 days from the day I ordered it.
Chelsea brought all the food. She had 2 kinds of taquitos, chips with salsa, sour cream, guacamole,  nacho cheese and burrito bites. The kids came back for 3rds and 4ths! It was a total success!
We had 2 games stations and 2 pinata stations. (4 pinatas- so everyone could participate) We broke the kids up into 4 groups and they each switched twice; one pinata, one game station. It all worked out perfectly! Oh what fun!! (sorry I don't have any pictures of the actual party; I was just too lazy to get the permissions to put pics of other peoples' kiddos on here…)