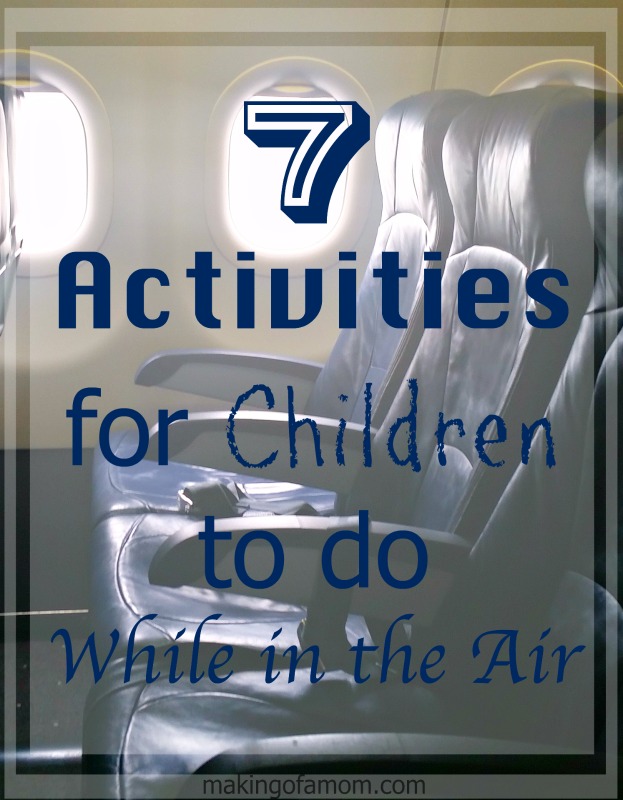 Plan on traveling by plane soon? There are some things you can do to keep your children occupied while in the air. Check out these 7 activities right here:
Reading is Always Fun
Reading books to your child has a way of calming their fears and helping them stay focused on something other than the plane. You can switch things up by using reading apps, listening to audio books, and even good old fashioned reading.
Play Games
You can play almost any game while on a plane, when you use your imagination. Play some of your favorite games like "I-Spy." You can sing alphabet songs or even count the amount of people on the plane. Make a list of games that your children love and rotate through the games while in the air. You can also purchase my travel activity book on Amazon. It's full of games, puzzles, coloring pages and more!
Allow Them Their Own Carry On
If you can swing it, allow your kids to bring their own carry on while on the plane. In that carry on, your child can bring along their favorite entertainment activities. There's nothing quite like having a bag full of items that your child cherishes. Allow them to get the items out as needed and remind them to put items back when they're done.
What Do You See?
Sometimes talking about what you see is a very fun activity. If your child has a window seat (and they're not afraid to look outside), take time to talk about what they see out the window. You could play a cloud game to see what certain clouds look like. Have your child look at the landscaping to see what they see. Perhaps they see mountains or even the ocean from high up in the sky.
A Squishy Ball is Calling Your Name
This is a very cautious thing to do while on a plane with others. You'll want to talk to your child to ensure they know about personal space. However, a squishy ball is the perfect activity for a plane. Being able to squish and squash a ball can help keep any child occupied!
Give Lacing Shapes a Try
We've all seen the lacing shapes at various preschools, garage sales, and educational stores. They help keep little fingers busy while traveling on a plane. You'll want to bring along several different lacing shapes for the plane ride to help keep the kids occupied for a while. Make your own DIY Lacing Cards.
Cuddling Anyone?
Some kids are not fond of traveling in the air, no matter what activity you bring along. Don't be afraid to bring along your child's favorite blanket for a cuddle session. Cuddling will help calm their nerves and keep them focused on what's important.