I wanted to make a wreath to hang on my door for the 4th of July. After thinking about it for a few days, what I wanted kind of came to me. Now besides the birthday balloon wreath, I'd never made a wreath before so I was learning as I went. Here are my supplies: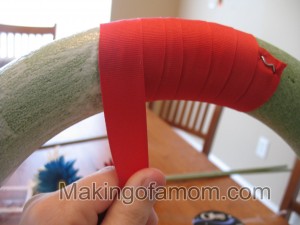 I had some left over floral pins from the balloon wreath craft so I used those to pin the ribbon into the foam wreath.
I then overlapped the next color a little bit so you wouldn't seen any raw edges.
I had three flowers I was going to put on the wreath, but three flowers seemed to over power the three, so I took them all apart and turned them into one big red, white and blue flower. I was going to stop here, but it just didn't look right to me. It seemed like it needed a little something else. So I went to Hobby Lobby and found some 4th of July garland to add to the wreath.
The garland I found had a lot of different red, white and blue beads with some clear plastic stars. I still don't love it, but it will do. I think the blue on the flower is what I don't like about it, but I found those flowers on clearance and you CAN'T beat clearance! You can use these ideas to come up with something that will suit your house!