Do you have the same basic meals over and over at your house? We do at ours. A couple of our usual meals require me to shred some meat
. I usually skip these meals or put them off as long as I can before I make them again just because it requires so much effort to shred meat and then make the dish. Well this week I got to try out the Wolf Claw Meat forks. I decided to make pulled pork sandwiches. When I first took the meat forks out of the package I was a little nervous because they are super sharp! I had my husband try them out first. They have to be super sharp so they can pick up big chunks of meat. The did a great job grabbing my pork roast.
They then shredded the pork like a champ! The sharp claws just tore right through the meat like butter. One thing I did notice is that these will work best for large pieces of meat. When I shred smaller pieces like chicken tenders these may not work as well because they are large tools and each claw is widely spaced from the next.
It literally took like 1 minute to get it all shredded and ready to be eaten. These things work so great!! It was way faster than using forks, and my hands didn't hurt. Sometimes my hands will hurt from using forks to shred meat because they are so thin and the meat is tough. wolf claws are definitely the way to go.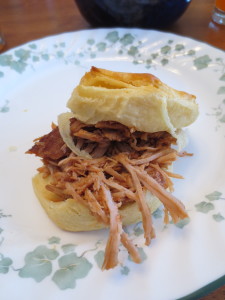 The Wolf Claw Meat Handler Forks are  ergonomically shaped to give you maximum leverage with minimal effort. The heavy-duty nylon is solid-cast without holes or embossing, so it's super easy to clean. They are also heat resistant. They have many uses besides lifting and shredding. You can also use the Wolf Claws to pull, grip, mix, serve and even toss a salad! They are available on amazon for $13.95 on sale right now. Check out my review of the wolf claw meat forks on Amazon and if you find it helpful, please give it a thumbs up!
I received one or more of the products mentioned above for free using Tomoson.com. Regardless, I only recommend products or services I use personally and believe will be good for my readers.