Disclosure: I received free product samples for review purposes. All experiences and opinions are my own. Yours may differ.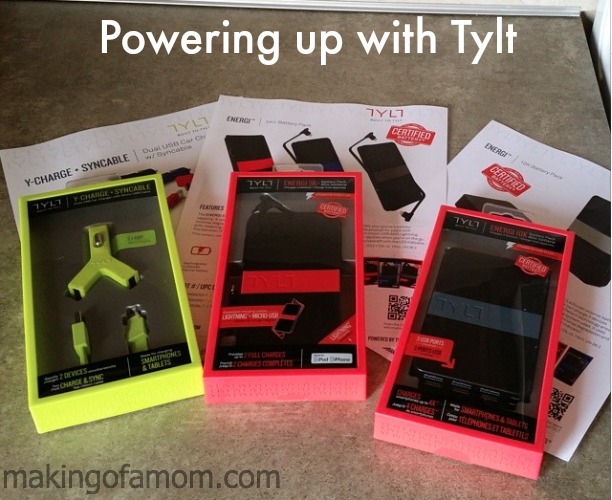 Raise your hand if dead batteries are really frustrating to you? Whether it is your phone, tablet, GPS, computer, portable game system or any other device, it is so frustrating when they die. Either you need them for some reason, or it is your child's device and they need it. My kids are not happy when their tablet dies in the middle of a game, or when I let them borrow my phone and they hear the beeping noise of impending death. Guess what? TYLT is here to save your device's day (and battery). TYLT is a great company that sells some really cool electronics, including some great portable batteries and charging devices.
This is the Energi 10K battery pack. This battery packs a punch at 10,400 mAh!! This battery will keep you going for days without needing a recharge itself! I LOVE that. This battery is on my favorite list because you can charge 3 devices at ones with this. How great is that? My husband's phone, my phone and a tablet and be powering up all at once! There are also led indicator lights on the side so you know the strength of the battery and when it may need a recharge. I own several different portable batteries and this one is by far the most powerful. In addition, it is very light weight. It easily fits into my purse or diaper bag and doesn't add a lot of extra weight. This battery pack comes in gray or blue accents.
With several road trips this summer, I am going to need all of the mobile power I can get. I know my whole family's batteries will stay powered up and ready to go with the Energi 10K. You can purchase the Energi 10K battery pack directly from the TYLT website!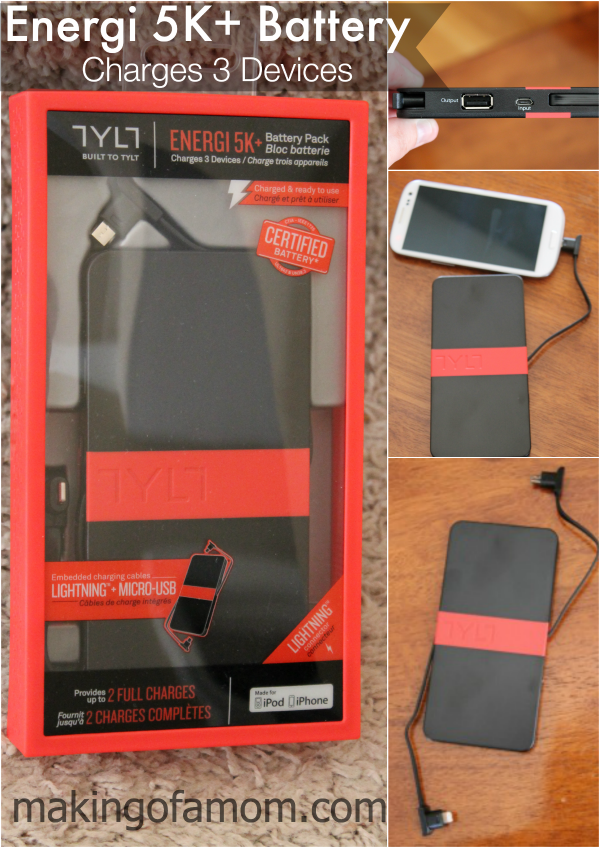 The TYLT Engergi 5K+ is like the little brother to the Energi 10K.  The thing I love about this battery pack is that it is really unique. This battery pack includes its own cords so you don't have to pack around extras! The Energi 5K+ has a micro usb and lightning chargers built-in! How awesome is that!! The Energi 5K+ also does have a universal usb slot to enable you to charge 3 devices at once. This battery pack is powered with 5,200 mAh. It is slim and sleek measuring in at 9/16″! This baby will not add much weight to your purse, pocket or any other carrying method. This battery pack comes in blue, gray or red accents. You can purchase the Energi 5K+ directly on the TYLT site.
This cool looking device is the TYLT Y Charge + Syncable. This summer when you are on the road, skip using the portable batteries and use the car to help power your devices. This awesome Y charge plugs into the car and directs the cables left and right. The Syncable comes with one 2 foot long flat cord. I LOVE how long it is. It makes it easy to rest my charging phone in a cup holder or to hold it. The Y Charge allows or two devices to simultaneously charge from the car. The Y Charge + Syncable comes in either mico-usb or lightning connectors. It comes in a variety of colors to choose from: red, blue, green or black. The Y Charger can be purchased alone or with the syncable cord directly on the TYLT site.
So there you go, these are my experiences with the TYLT products I received. There is no excuse for an electronic device at my house to never be charged since I have a combined power to be charging 8 with all of these products! I love TYLT, it is a high quality brand with a high quality product I highly recommend them!