Disclaimer: I received this free bouquet for promotional purposes. All experiences and opinions are my own. Yours may differ.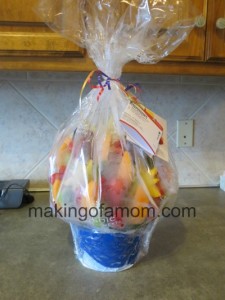 This showed up at our house the other day. Are you excited to see what is underneath the packaging? I know I was!!
This beautiful Watermelon Kiwi Summer Bouquet was sent from Edible Arrangements to my house so that we could enjoy the beauty and flavors and so that I could tell you all about it! I had seen pictures of Edible Arrangements bouquets in the past, but I hadn't ever seen a bouquet in real life. It is gorgeous!! The picture is lovely, but nothing like experiencing it in living color! Check out this short video I made on instagram so you can get a better idea of the bouquet.
Just take a look at it in close detail for a moment. Notice the beautiful pineapples cut into the shape of suns. Notice the lovely way the watermelon has been balled and skewered. Notice the vibrant colors. I assure you all the fruit was ripe, juicy and delicious! In fact it was so delicious, that even though I do not prefer cantaloupe, that is what I ate the most of. It was so ripe and so good. I LOVED it! The fruit was noticeably fresh. It was incredible!
As you can tell my family was very anxious to start partaking of the fruity goodness. My son is a strawberry fiend and so he inhaled skewer after skewer of strawberries! The rest of us did a good job of going from fruit to fruit and not really choosing favorites (except I did eat more than my share of the cantaloupe). The night we got it we ate until we were stuffed, and that wasn't even half of the basket! The next day we invited some friends over for a fruit party to help us eat it. I knew it needed to get eaten quickly before it wouldn't be good anymore and I certainly didn't want to waste it. Our friends were also very impressed with the beauty and yummy taste of the basket. Did I mention quantity. It is an enormous amount of fruit. You can pick your sizes on Edible Arrangements between small, medium and large.
We got our bouquet on Friday, by Sunday the fruit wasn't doing too well. I had kept the original packaging and would cover it up with it every time we were finished eating the fruit. I stored it in the refrigerator. I think next time, as sad as it is to take the bouquet apart, I will probably remove the fruit from the skewers and put it in covered containers. That may help it last longer. With how much we were eating it and the help of friends we ate almost all of it before we decided to call it quits. Perhaps we just need a bigger fruit party next time and we can invite even more people!
I definitely can say that this would make an impressive gift. The baskets are pricey so make it a group gift. If everyone donated some money then you could get a lovely basket and have it be affordable. You can also check out the items under $50 for some more affordable options.  Also the Edible Arrangements page has a "special offers" section. These baskets come with a free bonus 12 oz. box of dipped fruit. These special offers are for a limited time, so if you want that bonus, order soon! I recommend this through and through. There is a bouquet or gift for every occasion on the Edible Arrangements site and they are sure to please!