We weren't sure if we would, but we made it! Another winter is finally behind us and now it's time to soak up and enjoy the sunshine that spring brings with it. So put the snow boots and heavy coats in storage, open up the windows and read on for some outdoor activities you can enjoy with your children this spring.
Revisit Some Games of Yesteryear
This spring, consider making a push toward putting the video games and iPad away and getting outside to play games that were fun years ago and – guess what – still are today. Remember playing hopscotch at recess? How about four square? Both of these games require only chalk and an adventurous spirit. Get back to the basics and introduce these playtime staples to your children.
Start a Garden
When did you have your first garden? Did it take owning your own place to get you started? Get the love for growing and cultivating started early with your kids by embarking on a long-term project that can open new doors and start a lifelong hobby. Maybe this is your first foray into gardening, too – that's OK! Bring the kids along for the ride as a project you learn your way through together.
First, decide your approach. Do you want to corner off a small plot of land, or start by buying some pots to place on the balcony? Next, start the planning. Work with your children to decide what you should grow. Kids will want to see the fruits of their labor sooner rather than later, so suggest adding things like sunflowers, pumpkins or other quick-to-grow things to the mix.
From here, it's time to get to work. (Kids will love this part, as it involves digging around in the dirt!) Take this time to describe the process – no, it's not magic that makes things grow – but also encourage their imagination. Explain that patience is required, but their hard work will pay off. Once signs of life begin to appear, this will become clear to your children. Guide them through the process of watering and weeding, and you might begin to notice them taking the initiative without prodding.
Since you're spending lots of time outside in your garden, don't forget to apply sunscreen and master how to control backyard mosquitos so your children aren't bothered while they're working. During this process they will take ownership and learn important lessons in responsibility. Just remember to start small and offer lots of encouragement!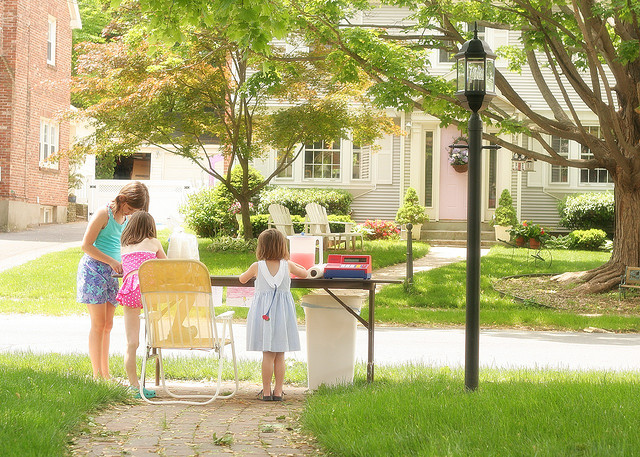 Sell Lemonade
Do your children have entrepreneurial spirits? Nurture them by helping them set up a lemonade stand. They'll need your assistance with making the goods, but from there, they can be the bosses – determining fair prices and how to best advertise. Plus, they will get some math practice when counting change for customers.
So the next time the kids get restless, we hope these ideas help you take advantage of the warmer weather by spending time outdoors with your children. Happy spring!