I remember back in elementary school when it was cool to tie your shirt into a little "tail" off to the side. I used to have several plastic shirt holders to keep my "tail" in place.
Now fast forward a couple decades (I'm not as old as that sounds!) and the look is coming back! As with all fashion cycles, they come and go. Now that it is coming back, there is a cuter way to tie up your shirt. It is called Tag Tailz. These are essentially pony tail holders with some cute beading hanging off of it. Tag Tailz sent me a cute turquoise pony tail holder with some turquoise, purple, green and pink with a jeweled peace sign at the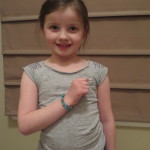 bottom. My 7 year old daughter was so excited to have this. She called it hair jewelry!
There are other cute ways of wearing Tag Tailz besides on your shirt. You can put it in your hair, like the picture above. You can also wear it as a bracelet, another favorite for my daughter. She loves jewelry. As soon as she was done wearing it herself, she then put it on her favorite doll. Of course it needed accessories also.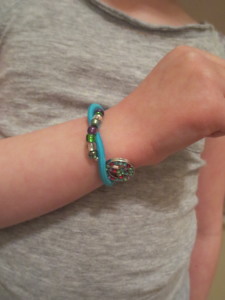 You can visit the Tag Tailz website to see where you can buy one for yourself. You can also check Tag Tailz out on facebook.