This summer my kids made their "Summer Bucket List" of all the things they want and hope to do during their break from school. The items on this list include things like playing at the park, going to the library, getting ice cream at the local parlor, painting their bedrooms, and road trips. Accompanying them on some of our bucket list activities is Fruit Shoot. Fruit Shoot, with it's sturdy bottle and close top lid make it the perfect summer activity companion.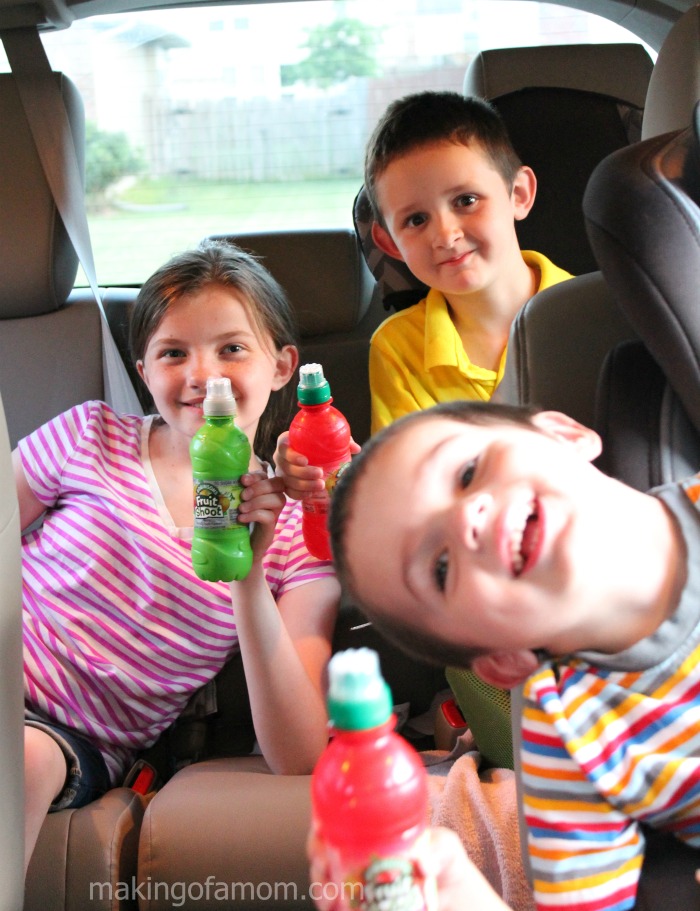 Road trips are a must for our summer adventures. While being stuck in the car isn't a lot of fun, Fruit Shoot is something to enjoy while traveling. Once we've been on the road for a while, the kids can get a little goofy, so we know it's time for a Fruit Shoot break. The pop-top makes me feel less worried about spills. The bottle means that they can keep it in their own cup holders. I love that the drink can open and close and not just remain open like a box or pouch drink.
While summer might be a break from school for the kids, is isn't a break for me. When they get stir crazy inside, or I need a little peace inside I send them outside with Fruit Shoot. They can play outside, and have their Fruit Shoot drink. The bottle makes it sturdy so putting it down in between drinks is fine. With the top pushed down no spilling will happen if they happen to knock it over.
"This is so refreshing" exclaimed my 4 year old when we were at the park this week. We are having a heat wave and so having a cool bottle of Fruit Shoot with him on the playground was just the thing to keep him cool and having fun. I can't emphasize enough how much I love the sturdy bottle and the pop-top cap. It means I don't have to hold three boxes or pouches while they run and play. It means I don't tell them to hurry and finish the drink so we can just throw it away. Now they can carry their drink with them, or even set it down next to where they are playing because it won't spill. The bottles are skinny enough that my kids were able to stick them in their back pants pocket while they were running around. I love that their drinks are not my problem!
Fruit Shoot
can be a little bit tricky to find. Here in Missouri they can be found in Casey's. We were able to find Grape and Apple at our nearby Casey's and I found this Strawberry & Raspberry flavor at Pizza Hut. Fruit Shoot has a new flavor – Fruit Punch – which my kids are excited to try as soon as we can find it. If you are having a hard time finding Fruit Shoot, or need some clues as to where to find it, check out the
store locator
which should help. I wasn't able to find it at every place on the store locator but I did at a couple of them.  Let Fruit Shoot be the refreshing companion to your kids summer activities.