Nothing is more important to me than my children and their health. I was so excited for this sponsored opportunity to team up with Enfagrow, to learn more about their products and share that information with you.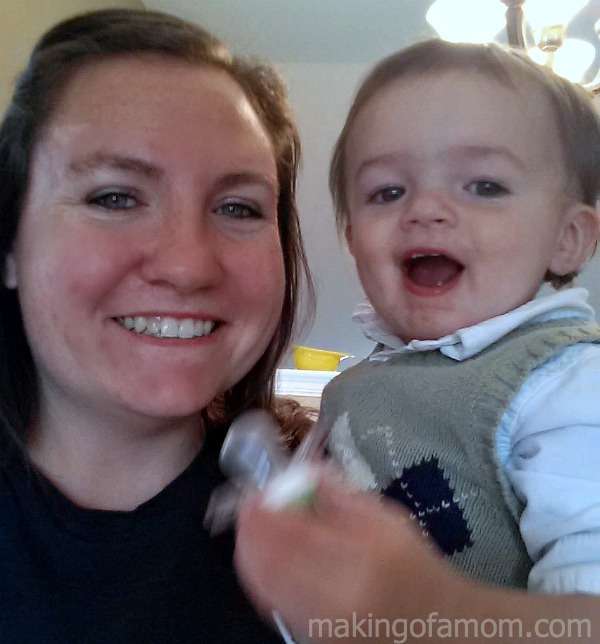 My 19 month old toddler is a pretty good eater, unlike his 5-year-old brother, he will try basically any food we give him. I love that he is willing to eat the variety of foods we give him, this makes me very hopeful for a healthy appetite when he is older. My food issue with him is that while he will try pretty much anything, he gets tired of food quickly. He'll have 3-4 bites of something but then he'll be done and want something new. This means he isn't getting the full serving sizes of the good food we want him to eat like fruits, veggies, etc. I'm so thankful that Enfagrow has a couple of products to help supplement my toddler's diet to give him the important nutrients his brain needs for development.
Whether you have a picky child that needs supplementing or a toddler with a healthy appetite, on average toddlers are only getting 25% of the expert recommended DHA. Enfagrow has two products specifically designed for growing toddlers. Why is DHA important to toddlers? The brain grows to 85% of its full size in the first three years of life. DHA nourishes a baby's healthy brain development.
Let me introduce you (if you haven't already met) to Enfagrow's Toddler Transitions and Next Step products.
Enfagrow Toddler Transitions
The Enfagrow Toddler Transitions powder has:
DHA, Choline and iron to support your toddler's brain development.

Calcium, vitamin D and 28 other total nutrients.

Natural Defense Dual Prebiotics blend- designed to help support digestive health.
Enfagrow Toddler Transitions is complete nutrition for children 9-12 months and is a great supplement for toddlers 12-18 months. It is available in 21 ounce cans or a 38 ounce club box.
Enfagrow Toddler Next Step
The Enfagrow Toddler Next Step has:
DHA and iron – two building blocks of a toddler's brain.

Calcium, vitamin D and 20 other total nutrients – to help support growth and development.

Natural Defense Dual Prebiotics blend – designed to help support digestive health.
Natural Defense Dual Prebiotics blend – designed to help support digestive health.
Enfagrow Toddler Next Step is tailored to toddlers ages 1-3. It is available in liquid 4 pack 8.25 fl oz. drink boxes and 24 ounce powder cans. It is also available in two flavors: natural milk and vanilla.
You might be wondering what foods have DHA to feed your child? Well, it is found mostly in foods like fatty fishes, which most toddler's aren't interested in eating. Enfagrow Toddler Transitions and Toddler Next Step is a great way to help get DHA into your toddler's diet in two servings a day.
The dietary needs of my kids weighs on my mind daily. I can't escape it. With the three meals a day plus snacks that I feed my kids, I am always thinking of what servings they still need to get in to be properly nourished. I try to guide their snack choices based on the other foods they have eaten throughout the day. I'm so happy for the peace of mind that Enfagrow Toddler Transition and Toddler Next Step provides me. I'm happy that it is another step I can take to help my youngest be healthy and strong.
I invite you to learn more about DHA, how important it is in your toddler's diet and about these great Enfagrow products by visiting the Enfagrow website.
Giveaway Time*
Enfagrow is giving one lucky ready an Enfagrow Gift Pack:
One Toddler Transitions Can (21oz.)

One Toddler Next Step Natural Milk Flavor Can (24oz.)
To enter leave a comment answering what you love about Enfagrow, or why you want their toddler to try it? Remember to include your email address so I can contact you.
Giveaway will run till 10/11/14, is open to US residents ages 18+. Winner will be emailed, announced on my blog and have 24 hours for respond before a new winner is chosen. Good luck!
I received compensation and free Enfagrow products for this post.
NO PURCHASE OR PAYMENT NECESSARY TO ENTER OR WIN. A PURCHASE WILL NOT INCREASE YOUR CHANCES OF WINNING. LEGAL RESIDENTS OF THE 50 UNITED STATES AND D.C. 18 YEARS AND OLDER ARE WHO ALREADY HAVE INTERNET ACCESS AND VALID E-MAIL ADDRESSES ARE ELIGIBLE TO PARTICIPATE. VOID WHERE PROHIBITED. Promotion begins 9/30/2014 at 12:00 AM PST and ends at 11:59 PM PST on 10/11/2014. Odds of winning depend on the number of eligible entries received. Official Rules, eligibility, prize descriptions and odds disclosure are available at http://www.thesitsgirls.com/sweepstakes-official-rules/ . Sponsor: Mead Johnson & Company, LLC, 2400 West Lloyd Expressway, Evansville, IN 47721.
I received compensation and free Enfagrow for this post. Enfagrow would be happy to help you with your question. Please contact them at 1-800-BABY-123