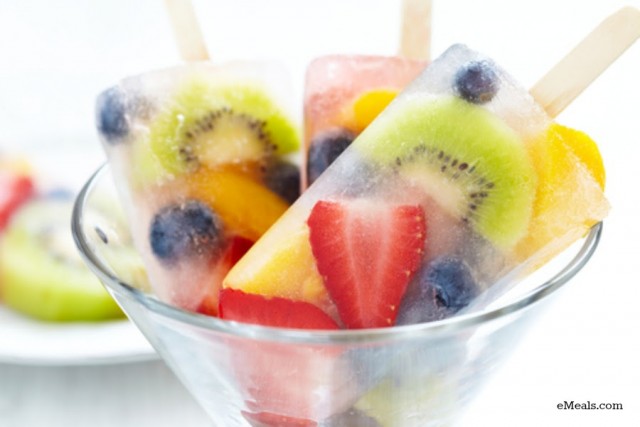 eMeals is an easy to use meal planning service. They offer meal plans for every diet type including slow cooker, classic, Paleo, low fat and more! Take the stress out of meal planning with eMeals. Right now you can get 20% off their meals plans with a Back to School sale. Use discount code SCHOOL for the savings.
I love it when eMeals
shares recipes with me to pass on to you. Especially when they are popsicles! This delicious fresh mixed fruit popsicle is the perfect after school snack!
Mixed Fruit Popsicles
1 kiwi, peeled and sliced
1 peach, peeled and chopped
1 cup strawberries, sliced
1/2 cup blueberries
2 cups Vita Coco coconut water (great brand to use because it's sweet)
Combine all fruit in a mixing bowl and place in your favorite popsicle mold. Pour enough coconut water in each mold to just cover the fruit. Freeze overnight.
(Suggestion: taste your coconut water and see if it's sweet enough prior to pouring into mold. If not, in a separate mixing bowl add coconut water and your favorite sweetener to taste. Then add to popsicle mold to cover fruit.)