This shop has been compensated by Collective Bias, Inc. and its advertiser. All opinions are mine alone. #CollectiveBias
My family recently returned from a conference where the theme was "Becoming a Superhero Family". This conference corresponded really well with the Captain America: The Winter Soldier DVD release on September 9. Upon returning home we decided to keep the superhero celebration going on by celebrating our Superhero family and the release of Captain America: The Winter Soldier. After all, Super #HeroesEatMMs, right?
As you can see above, I have a little superhero lover at my house (I also have a big superhero lover, but he doesn't have a costume). When I came up with the idea to make a Captain America shield cake and decorate it with M&M's®, my husband was totally on board.
He nicely ran to Walmart for me to gather supplies so I would be ready to go. I then received a series of texts from the candy isle with pictures captioned with "what do you want?" HA! Do you get those texts too? I guess with such a huge M&M selection it's better to ask than assume.
My husband got so excited for this cake that he headed to his computer to design a template for the cake. This template actually turned out to be a very helpful tool in decorating. We have turned this template into a printable so just click the image to get the full-sized pdf. Print, cut and you have your own template for your own Captain America shield cake with M&M's. Remember since you're using red M&M's you don't need to use those circles on the cake, you would just use the white one.
Let me take you on a walk through of how I created this cake, so you can copy it or improve upon it.
How to make a Captain America shield cake with M&M's
First gather your supplies.
I like to have a nice surface to make and display my fancy cakes, so I covered a cutting board with foil.
To make things easy I used a boxed cake mix and made two 8 inch round cakes. (You can make a chocolate cake or white cake from scratch if you want!) I made two because I wanted a back up cake incase I messed up the first one.
While your cakes are baking, start separating the M&M's into blue, red and everything else bowls – if you start snacking on the M&M's during separation, that is fine, just don't eat any of the red or blue ones!!
Once the cakes are cool, flip them onto your prepared boards and frost.
Since we are using a paper template to make sure our Captain America shield looks like his shield, we had to wait for the frosting to set so the paper template doesn't stick to the frosting.
Once the frosting is set, now you can begin placing the M&M's. The pattern is red, white, red, blue, white.
Once I was finished placing the M&M's, I found that my star wasn't too prominent so I grabbed a tube of white frosting and filled it in. This helped make the star stand out, after all it is the center of the cake!
For a visual on the process please see this photo step-by-step guide: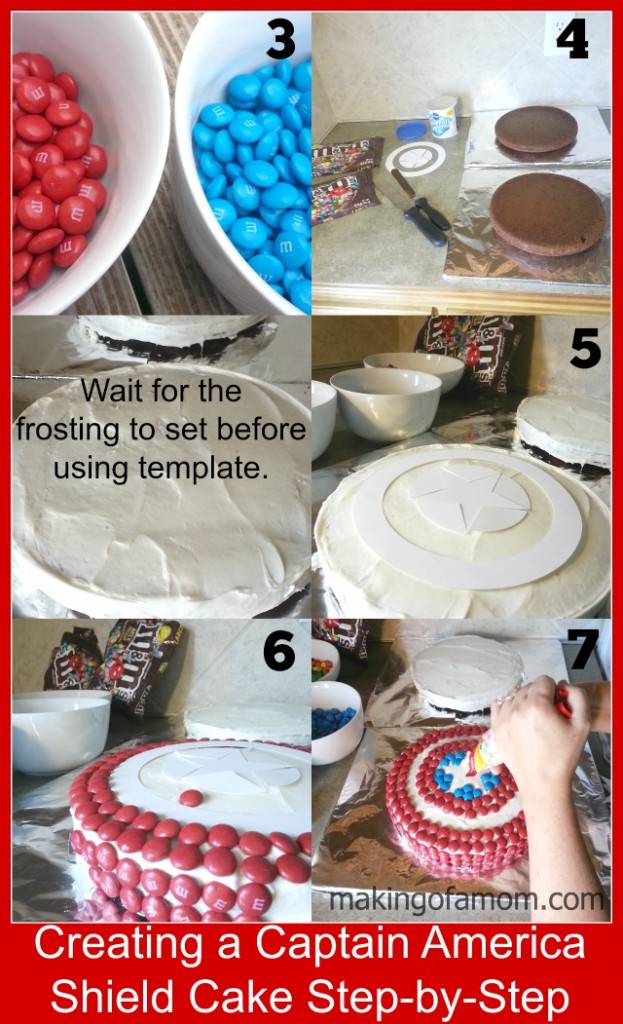 The whole process was very easy. It's more like busy work getting the M&M's in the right place. The final results, however, are very fun! I was so excited for my kids to get home from school and surprise them with this fun cake. I asked my son if he would like to dress up like Captain America while he had some shield cake! He responded with an enthusiastic "YES!"