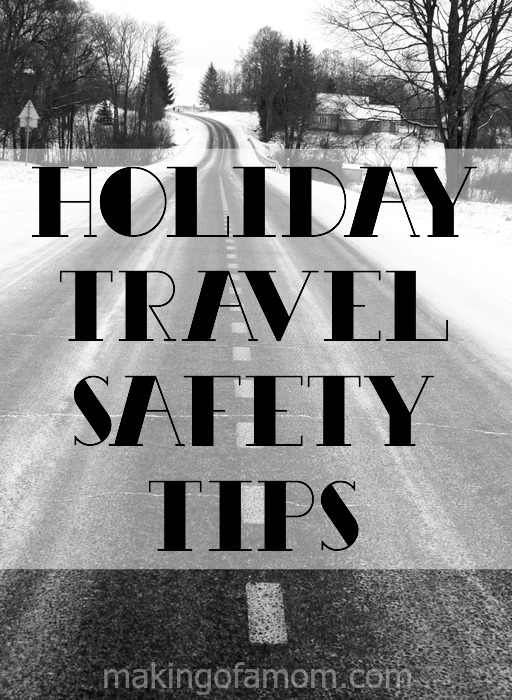 The holidays are quickly approaching and that means it's time to visit friends and family. However, the holidays also means snow, which can also mean stress. If you plan on traveling during the holiday season, pay attention to these safety tips.
Have an Emergency Car Kit
Please don't go anywhere in your car, unless you have an emergency car kit. These are so simple to put together and don't take much time at all. Make sure you have items like a flash light, flare, gloves, extra blankets, jumper cables, an emergency cell phone, and food/water. Prepare your kit as if you could be stranded for a few days. We also include some kids activity books while traveling to help them stay entertained, especially if something goes wrong.
Keep Your Phone Charged
If you will be driving or traveling quite a distance over the holiday season, it is very important that you keep your cell phone charged. Data can eat up your battery, so turn off as many apps as you can on your phone while in the vehicle. You'll be driving anyways, so there's no need to have all of those distractions. It would be wise to also make sure you have a phone charger in your vehicle, to recharge your phone as necessary.
Get Roadside Assistance
Roadside assistance is one of those things that you wish you had right when something goes wrong. If you want advice, sign up for roadside assistance before heading out this holiday season. It's so nice to just be able to call someone and have them come help you out. You do not want to be stranded on the side of the road with no one to help you, especially when it's snowing. 
Tell Someone Where You're Going
One rule of thumb for holiday travel safety is to always tell someone where you're going. A quick text before you start driving, to let a friend or relative know what way you're headed is a very nice gesture. If something were to happen, at least your contact will have an idea of where you were headed.
Stay Focused
Traveling in cold, icy, and snowy conditions are dangerous, so it's vital that you stay focused on the road. It's so easy to get distracted by your phone or the kids, but staying focused could save your life. If you get tired while traveling, always pull over to take a power nap or to grab some coffee.
Driving a car that has four wheel drive will also help you in snowy or bad weather situations. If you are interested in buying a new car that can handle these situations, browse the JeepCheap.com website for some awesome choices.
What tips do you have for holiday travel to stay safe?