I received products for review purposes. All opinions are my own. Yours may differ.
I've been doing on gift shopping a lot lately. Since I have four kids I have to be careful with my budget and look for things that are budget friendly so that I can buy everyone multiple gifts. I have had several brands reach out to me to include their options in my list. Check out my fun gifts for kids under $15:
Let's start with a company called OOLY. They have so many fun, affordable things!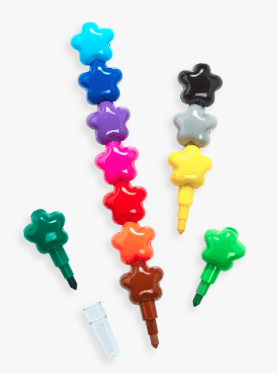 These stacking star crayons remind me of crayons I had as a child, though mine weren't a fun shape. These are so great. It's an efficient way to have so many colors. The best news? These are only $2.99!!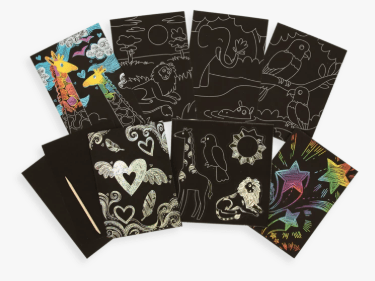 All my kids love craft kits. Especially easy ones like this where they can succeed easily because there is an image to trace and draw. These will be an awesome stocking stuffer hit at my house! The pack comes with 6 sheets and is $8.99!
The Holiday Happy Packs are really fun because they are packed with fun. Inside the pack is different things. Inside the one I received is a glitter wand pen, scented stickers, and sticky tabs (removable tabs that are safe for pages, they can be used as bookmarks). The holiday happy packs are $12.99.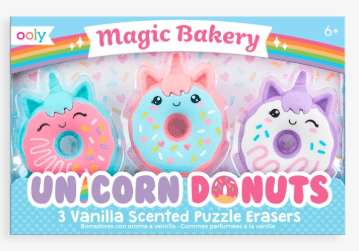 Fun shaped erasers are all the rage in elementary school. These donut erasers that also happen to be scented and puzzles will be really happily received at my house! They are so cute and could make doing school work more fun that that sitting on the desk. The scented erasers range in price from $2.99 – $4.99. OOLY has a lot to choose from!
Next I have some fun little toys that are of the "surprise" variety!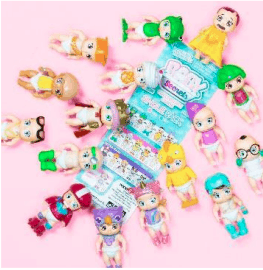 Baby Secrets Series 3
As you can see in the picture there are a large variety of babies to get. Open your surprise and dip the baby's diaper in water and it'll turn pink or blue. There are 50 different baby's to collect. These cost $2.99 and would be adorable stocking stuffers. You can purchase these toys at Walgreens, HY-Vee Inc, KVAT Food Stores, C&S Wholesale Grocers, Sheetz Distribution Services, HEB, Amazon, Blain Supply, Toy Wiz,
Nexcom.
Merbabies Series 2
With 25 Merbabies to collect you won't get bored quick. You can also dip the mermaids in water to see them turn blue or pink. They are water proof and fun for bath time. Merbabies are $5.99 and can be purchased at Target, Cracker Barrel, Party City, Joanns, Bed Bath & Beyond, Amazon, The Paper Store, Scheels All Sports, Matty's Toy Stop, Kalahari Resorts, Toy Wiz.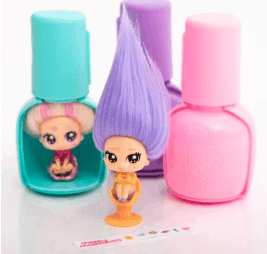 Hairdooz – Minidooz
Another cute stocking stuff are these cute little Hairdooz dolls. They come in a large "nail polish" container. They are each a surprise so it's fun to open it up and see which doll you get. The dolls also come with nail stickers for a nice manicure. These cost $5 and can be purchased at Five Below & Toy Wiz.
If you have more gifts under $15 I'd love for you to let me know. I'm always looking for affordable gift ideas! Of course on Amazon there is a plethora of gifts for kids under $15 but recommendations seems to go better than shopping blind.