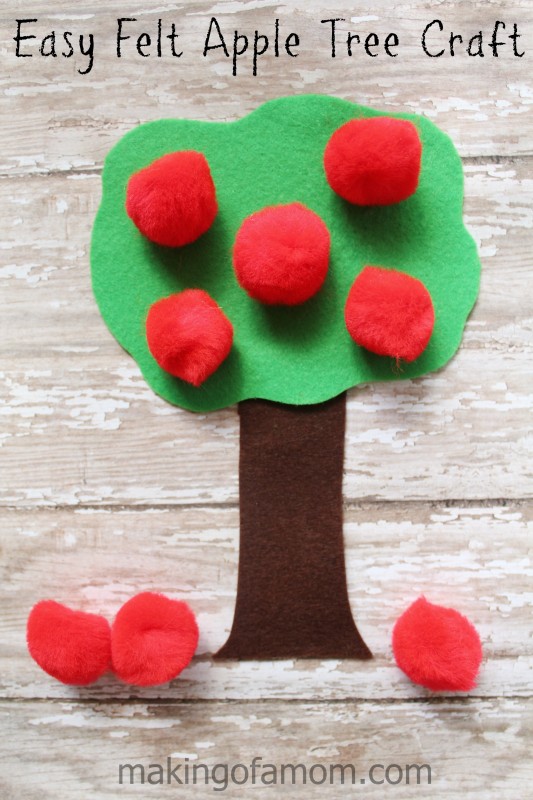 Back to school is upon us. At my house I have two children in school and one still at home. Though, he will be going to preschool twice a week, he still is home most of the time and looking to be entertained. This easy felt apple tree craft is a fun way to get him creating and keep him busy for a little bit. It's also a fun way to learn. Practice numbers and simple addition and subtraction problems with the apples. This could be a great homeschooling activity for early learners.
Supplies needed:

Green craft felt
Brown craft felt
Medium sized red pom poms
Scissors
Craft glue
Directions:
1. Begin by cutting out a large green circle from the green craft felt. Use your scissors to trim and scallop the edges to create a ruffled, more realistic shape.
2. Cut out a trunk for your apple tree. A simple rectangle or inch wide strip will do the trick.
3. Use your craft glue to glue the two felt pieces together. This will create your tree.
4. Your child can now add the apples. Use the red pom poms and craft glue to glue the pom pom apples into place.
5. Your easy felt apple apple tree craft can now be displayed. Or, skip the glue and let children place their own apples on the tree and remove and replace as they wish.
I think it's fun to play a game with my toddler practicing numbers. I'll ask him to put a certain amount on or take a certain number off. He's pretty good with numbers so we can even do some simple addition with the apples. It's a really fun game and great bonding time together.
Interested in learning how to make applesauce, visit that post! Also, check out some other apple craft ideas.