I had a conversation with my sister about the fact that Peeps are disgusting. I've never actually met anyone who likes the way they taste, yet they are the quintessential Easter Treat. Why is that? I decided that I would like to make my own Peeps, but have you ever looked up a recipe for homemade marshmallow? It is way too involved for a lazy novice like me! What I decided on was meringue Peeps! How cute! I followed the directions for meringue from The Toddler Cookbook and then I used Martha Stewart's directions on how to pipe out the shapes. You can also make bunnies!
The meringue recipe says to bake it on Parchment paper, and I decided that since all I had was wax paper, it would be fine…it wasn't! Learn from my mistake; USE PARCHMENT! This meringue will seriously melt in your mouth! It was super yummy!
After the conversation about Peeps, Stefanie found this adorable idea from EclecticRecipes.com. Since Peeps are so yucky that nobody can eat them, make s'mores out of them! I had my doubts that they would be good in s'mores, but they are perfect! You can't taste any yucky Peeps, you only taste s'mores! Genius!! My family gobbled them up!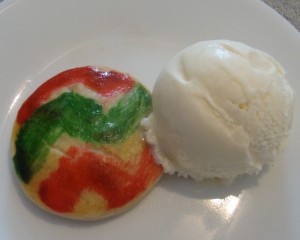 My favorite Easter treat are these Pastry Easter Eggs. I used Pillsbury Pie Crust so all I had to do was unroll it! The dough has already been rolled for you! It's so nice and quick! You just use a cookie cutter to cut out ovals (or circles) lay one on an ungreased cookie sheet, add a spoonful of pie filling and then top with another dough circle. I used lemon pie filling since lemon reminds me of spring. My nephew was eating these in one bite! To make them colorful, mix food coloring with an egg, then brush them on. (My colors turned out more like Christmas than Easter! When I do it again, I will not use as much food coloring.)
My kids favorite were these super fun Nests. I used Jordon almonds like they ask for, but they were gross. I would recommend using something else, but they sure are pretty for the pictures! These are really messy to make, but so chocolaty and scrumptious.
On a final note, there have been ads all over the tv and internet for Rice Crispy Hidden Surprise Easter Egg Treats. I recommend turning them into Fruity Pebbles Surprise Easter Egg Treats; more colorful and even tastier. Watch out, they're addictive!!
In all of these treats, anything that called for food coloring I used Wilton food coloring Kelly Green and Rose. Enjoy!!