Cryoow! (create your own) is an amazing company that takes a drawing and turns it into a doll. I had the opportunity of having my daughter draw a picture and have it turned into a real doll from Cryoow! You can check out my opinion and review of Cryoow! here. This unique idea would make a fantastic gift for the upcoming Holidays. Since these dolls are made in Bali if you are interested in this gift idea, then you need to get started on the process of drawing the doll, emailing it over and then it takes about 2 weeks for the doll to be made and allow a week for shipping. My daughter loves her special doll that is 100% unique and made by her! 
About Our Sponsor
Cryoow! dolls are the "brain child" of seven year old Nora. She asked one day one of our tailors to make her a doll from a drawing she made spontaneously while waiting for her lunch. Sad she told the tailor that it is no fun to play, hug and kiss "a sheet of paper". She wanted to have a real doll that looks exactly like her drawing! That was the birthday of "Tom" the very first Cryoow! doll!
All Cryoow! dolls are handmade as the original "Tom" that Nora loves so much. Each Cryoow! doll is unique and is never reproduced. By transforming your drawing into a Cryoow! doll we follow your drawing as close as possible. The artistic value of the character shown in your drawing will always have the highest priority for us. All Cryoow! dolls are professionally tailored, in best quality and made from durable fabrics. They even could be hand washed.
The Prizes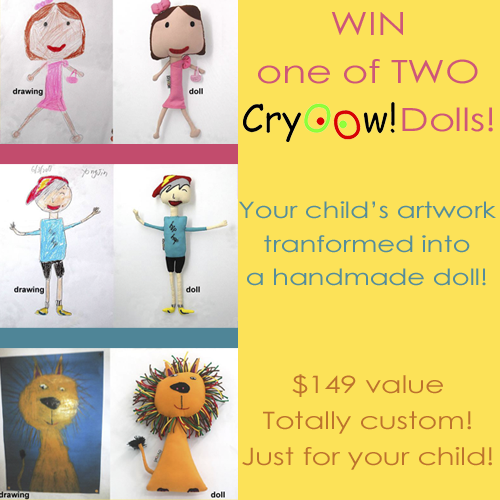 We are giving away 2 Cryoow doll's (retail price $149 each) made after the drawing of our winners.
Keep: One Cryoow Doll
Share: One Cryoow Doll
How to Enter
The Giveaway will open up on 10/8 12:01 am EST and Close on 10/11 at 11:59 pm EST.
Complete the mandatory entries on the Rafflecopter below.
Check out and Enter our Other Giveaways
Side note…It's not mandatory to enter all the giveaways at each blog. Those are just great bonus giveaways for you to enter.
Mission Giveaway started with Madame Deals and her $100 story where with $100 several people received the help they needed. We are on a mission to help people help each other! We have gathered a group of bloggers that want to make a difference. Together we are Mission Giveaway!
To ask about becoming a sponsor, please contact Stefanie at makingofamom@gmail.com for details. Take a look at our Media Kit to see what Mission Giveaway has to offer.
Are you a blogger that would like to participate in Mission Giveaway? Find out how you can join us.
Find our official Terms and Conditions on the Madame Deals Media page.