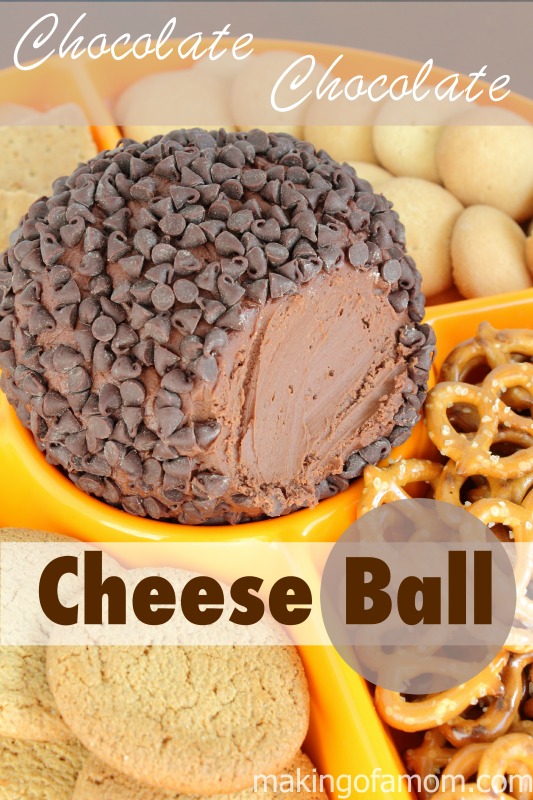 Attention party planners – I've got the perfect snack food to put out at your party! Whether your planning a holiday themed party, preparing for the big game, a child's birthday or just a fun get together, this is a fantastic party good. No matter the occasion, this
Chocolate Chocolate Cheese Ball
is perfect!
Ingredients
8 oz. Cream Cheese, softened
¾ Cup Powdered Sugar
2 Tbsp. Cocoa Powder, unsweetened
¼ teas. Salt
1 Pkg. Semisweet Mini Chocolate Chips
½ teas. Vanilla Extract
1 Tbsp. Irish Cream (optional)
Instructions
In a medium bowl add the Cream Cheese, Powdered Sugar and Salt, mix until combined and smooth.
Add the Cocoa powder and stir to incorporate.
In a microwave safe bowl, melt 6 oz. of the Chocolate chips, about half the package, 50% power for 2 minutes. Stir until smooth, add to the Cream Cheese mixture and stir until combined.
Add the Vanilla and Irish Cream and mix until thoroughly combined.
Place the mixture in the center of a piece of plastic wrap, 1 ½ – 2 feet long, pick up the corners of the plastic wrap and form the mixture into a ball. Give the loose ends a twist and place in the freezer for 1 hour. After 1 hour shape the mixture again ensuring it is nice and round, return to the freezer for at least 4 hours to overnight.
Before serving remove the Cheese ball from the freezer and let warm up 5-10 minutes. Place a cup of the Mini Chocolate chips in a bowl and roll the ball in them. Hold the ball on the bottom and hold it over the bowl. Using the other hand fill in any bare spots with chips and press them in with the palm of your hand.
Place on a serving tray and serve with your favorite cookies, crackers and pretzels.
Serving the Chocolate Chocolate Cheese ball would be darling in a compartment appetizer tray. This allows you to have the cheese ball in the center will all the "extras" around it. I love that this makes a darling presentation, showcasing all the items you are serving with the cheese ball as well as keeping it all separated.
Enjoy the cheese ball and have a great party!