For my oldest daughter's 6th birthday, my girls and I along with my sister, her husband and their boys, went to the Hutchinson City Zoo. It is one of our favorite summertime activities- this is the first time we've gone in the spring. We got in and out between rain showers! Nice timing!
We love the Hutch Zoo because it is much smaller and we can see everything and do all of the activities in under an hour. We can always take more time if we want, but the girls never feel like we have missed anything. (When we go to the bigger zoo in Wichita, it takes all day to see everything, so we have to pick and choose which animals and exhibits we want to visit.) There are some really fun activities for the kids to do between animal exhibits. Their favorite is the Dino Dig. There are some dino bones in a sand pit and the kids get to be archeologists and uncover the fossils. There is a big dinosaur fossil that the kids can climb up and then they slide out his mouth- if you look at the upper right corner, you can see the tunnel slide.
At the Hutch Zoo, they have mostly native Kansas animals on exhibit. (Obviously the Tamarins are not native to Kansas!) Many of them are being rehabilitated like the Bald Eagles. They have tons of cute looking animals that are fun to see up close- but we would never have the chance otherwise. They have deer, bobcats, porcupines, a raccoon; all kinds of animals! The boys liked the snakes the best, but my girls really loved this adorable swift fox couple and the tiny burrowing owls.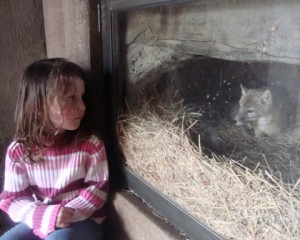 There is also a spot where you can look across the lake through a telescope where the Bison are. Near the telescope station, geese and ducks congregate on the rocks and we were surprised to see 2 American White Pelicans resting! They are native to Kansas, but still very unusual to see! They are HUGE!!
Admission to this Zoo is currently free (but it is rumored that they may start charging a small fee in order to expand). Our favorite part of this zoo is the train ride! It only costs $1 and it takes you all around the woods and there are some really funny animal statues to spot from the train; everything from coyotes to alligators! It was not running during this last trip, but we'll catch it next time!