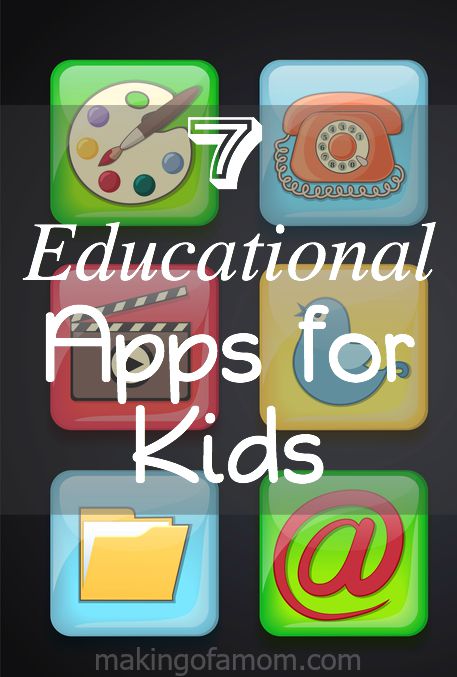 Kids are using tablets and phones at a very young age nowadays. But how can you make sure they use apps that have kid-friendly content? And what apps are not only fun but also educational? I looked at various apps for kids and made a selection of 7 educational ones that are fun, kid-friendly and have a learning aspect to them.
1. Elmo loves 123s
Sesame Street's Elmo and Abby Cadabby help kids do math in this app. It starts as easy as counting to 20, but it also helps kids to do easy additions and subtractions through games and puzzles. The videos in this app are amusing and the games keep the kids engaged.
2. Stack the States
Stack the States will help your kid recognize the shapes of the states and learn the capitals and abbreviations of each state. It also teaches kids where each state is located within the country through a puzzle game. What helps is that the shapes of states have cute images and funny faces on them to keep your children engaged. Stack the States also allows you to select the type of questions that are provided to each player. This way the app creates a personal learning environment, which is great!
3. Balloony Word
Kids will learn how to spell certain words through Balloony Word. It is a hangman-like game with a monkey holding balloons with letters on them. Your kid will have to guess the word to keep the monkey afloat. Balloony Word is filled with funny and simplistic graphics and your child will learn to spell brand new words in no time.
4. Read Me Stories
This is an e-book app for children's books. A narrator tells the story and kids can read along. Read Me Stories adds a new children's book to the app each day. A great feature in the app is an option to help your son or daughter when a word is too hard to read. Read Me Stories will help to pronounce the word and blend words together to help figure out a word means. The only flaw is that the books you download can take up a lot of storage and are difficult to delete.
5. SquiggleFish
Boost your kid's creativity with SquiggleFish. It's an empty aquarium, but when your kids draw a fish on paper and make a picture of it, the fish comes alive in this app. When the picture is taken, the app cuts the fish out of its paper background and makes the virtual aquarium the new background. SquiggleFish allows the fish to move all over the screen, which makes it look like it's actually swimming. Your kids can create multiple fish to really fill the entire aquarium!
6. Monster Time
Monster Time will help your kids learn about digital and analogue clocks. There is a fluffy monster that supports them during the process. A great thing about Monster Time is that you can adjust the difficulty of the game.
7. Learn a Language by MindSnacks
There are several language apps by MindSnacks. The languages available are: Learn Chinese (Mandarin) by MindSnacks, Learn French by MindSnacks, Learn German by MindSnacks and Learn Spanish by MindSnacks.This app teaches children a second language in a playful way through nine different games. Most of the games are single-player and emphasize speed or scramble, which isn't a method that works for everyone who wants to learn a language.
Using an Educational Application
Most applications aren't free. Fortunately you can buy credit for your iTunes account really easy online using iTunesCard.com. Let your kids start with the above mentioned fun educational applications right away.