I love the Mission behind 5 STAR Concepts! I could always use a little improvement in my life and 5 STAR Concepts is a company that wants to help by offering webinars and retreats! Check out their company and enter to win some awesome CASH!!
About Our Sponsor
5 STAR concepts is an organization whose mission is to help others become extraordinary. Through our online webinars, seminars and retreats we work with individuals with a desire for personal development and growth.
Through the 5 STAR Concepts processes, you will begin to break down the barriers and attitudes that are currently holding you back and hindering you from moving forward to the next step of your life. More specifically, during dare2BECOME, you will learn the Five Principles of Becoming:
Focus on Your Strengths
Surround Yourself with Support
Conquer Your Fears with Trust
Invoke Enthusiasm in All You Do
Always Give Back
The Prizes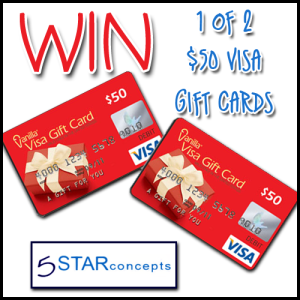 5 Star Concepts has provided TWO $50 Visa Gift cards as prizes for this event.
Winner Keeps: 1 $50 Visa Gift Card
Winner Shares: 1 $50 Visa Gift Card