Disclaimer: I received a product sample for review purposes for my Holiday Gift Guide. All experiencer and opinions are my own. Yours may differ.

I recently learned about Zylie & Friends toys. They are a relatively new company that is making their debut at FAO Shwartz and Toys R Us. These 18″ animals are the stuffed animal version of American Girl Dolls. They are soft stuffed animals that include plastic joints for easier moving. Zylie is joined by her Panda Bear friend Shen and soon to be available Koala Bear friend Kiki. These toys are safe for children ages 3+.
Zylie & Friends are adventurers. Similar to American Girl Dolls, Zylie comes with a story book about her adventures. Zylie opens to the door to imagination and the child joining her on her adventures. Since my kids have traveled around the world and enjoy traveling, Zylie is going to make the perfect toy for my daughter and Shen for my son!
Zylie & Friends are 18″ dolls and can wear most 18″ doll clothes. This is exciting news for my daughter because she has an 18″ doll so they will be able to share clothes with each other. My mother-in-law has also started to make 18″ doll clothes so their wardrobe will be expanding! Zylie also has many outfits to choose from. She is quite fashionable. Check out the lovely clothes she comes with.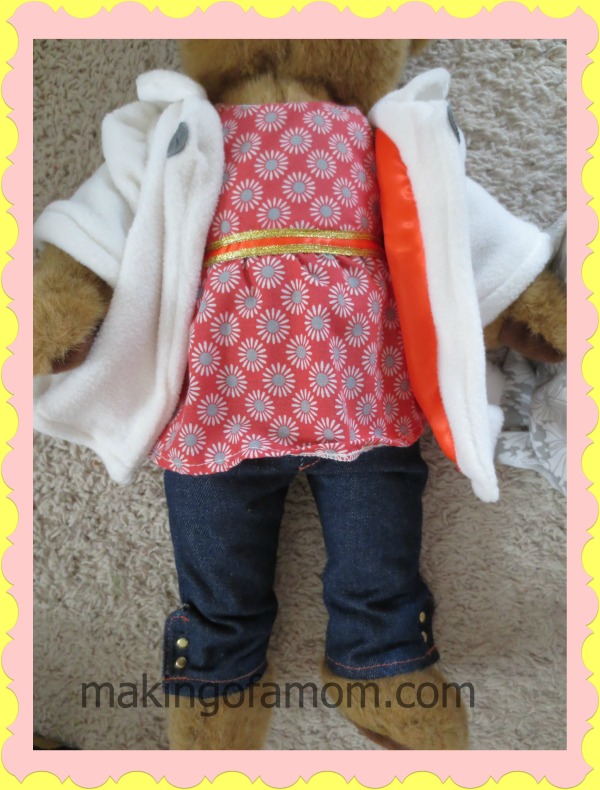 Her clothes are so detailed and high quality. I love her white peacoat with the bright orange silky lining. Her shirt is cute with the floral print and ribbon embellishment. Her skinny jeans are the perfect fit and  feature some cute detailing at her ankles. Zylie is so cute and so put together. This is a quality toy that will last for years!
Besides her cute outfit Zylie comes with her signature orange purse, diary, passport and map. She also includes a book of her first adventure: Zylie's Big Apple Adventure.
One thing that might seem silly to mention is that Zylie is very easy to get out of the box. When my daughter received her 18″ doll last Christmas it literally took me 45 minutes to get the doll and all the accessories out of the box. I was able to take Zylie out in a couple minutes. She is only attached  by a couple twist ties – no scissors required!! It might be silly, but I LOVE this!
Get You Own Zylie & Friends
You can purchase Zylie & Friends toys at FOA Shwartz, Toys R Us or online at the Zylie & Friends website. The adventure kits cost $49.99, extra outfits are $19.99 and adventure books are $5.99.
I will be reviewing Shen in my 2013 Holiday Gift Guide coming soon!