Thanks to Children of America for sponsoring today's discussion. All opinions are my own.
As parents we want to give the absolute best to our kids. I try to provide my children with a lot of different opportunities and experiences to help mold them into responsible, compassionate, independent and confident people.  
Children of America
schools also want to help create these kinds of learning experiences for our children as well.
What is Children of America?
The Children of America difference is our commitment to your child's future. Innovation & creativity are the hallmarks of our teaching and the foundation of our infrastructure. With our qualified teachers and proprietary curriculum we provide your child with an unsurpassed learning experience.
Children of America provide full-time day car and before/after school programs. They have a fun early learning programs that kids love!
Through exploration and discovery, each child receives ample opportunity to develop his or her natural curiosity and creativity. With the guidance of caring teachers, these "learning" moments help cultivate lasting understanding and are key to transforming discoveries into a lifelong love of learning and academic success.
I love that they are beginning these preschoolers educational experience on such a high note. Their individualize attention and support is going to set a positive tone for these children to begin their educational journey. What a wonderful experience to begin school in a creative and encouraging environment.
Win FREE Tuition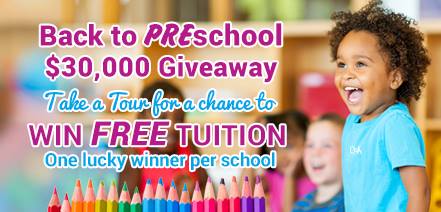 As you are planning where you preschooler will head to preschool this year, be sure to check out the
Children of America locations
. If there is a location near you, go take a tour between now and August 25!
After the tour you'll be entered to
win $500 in FREE Preschool tuition
.  Each school will pick 1 WINNER.
Schedule your tour and enter for this chance to win FREE tuition here!
 Remember this giveaway opportunity ends August 25, 2015 so hurry!
The drawings will be done at the corporate office and each school will be notified and given a Winner Certificate.Winners will be notified via email, using the email that was provided.
You can follow Children on America on their social media pages: Facebook, Twitter and Instagram.