What's New from The Orb Factory?
By Stefanie
February 13, 2013
I've told you in the past how much I love The Orb Factory. They just released some new toys and I'm happy to share some of them with you! The Orb Factory now has a fun line of Plush Crafts that feature no sew room decor crafts. My daughter is all about decorating her room, so I new instantly she would love to work on one of these projects.
When I opened the box and she saw the butterfly pillow she wanted to get started right away. She has been talking non-stop about how she will make the pillow and where it will go in her room and which doll will get to use it.
When she was able to get to work on it (after her homework was finished of course) she was a pro! She was nice and let her little brother, who was very interested, watch her work very carefully.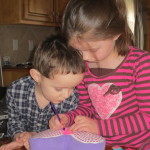 She is a little perfectionist so she was very careful as she worked. These new plush crafts remind me of needle felting. There is a tool to push the felt into the pillow. Of course since it is for children, there aren't any needles or sharp points.
The whole project took a couple hours that were spread throughout the day. She finished it right after bath time and before she headed to bed. She was very proud of her finished pillow.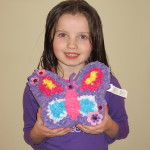 Then there is my son who is just now starting to want to crafts and activities just like his sister. My husband has trained my son to be really into pirates so I knew he would love the Curse of the Treasure Chest sticky mosaic activity.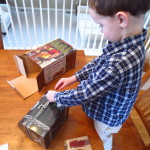 I was surprised that this activity held his attention for so long. I asked him half way through putting on the stickers if we wanted to take a break and he didn't. We finished the treasure chest in one sitting. Inside the treasure chest is a secret compartment that held a pirate book.
There was a cute little story inside and information about different pirate symbols. My son loved it, as did my husband!

My son now carries his treasure chest around everywhere. He has put some of his "treasure" (cars) inside it.
I'm really impressed with this treasure chest. For being made of thick cardboard, it is very sturdy and is doing a good job of withstanding this 3 1/2 year old!
Once again The Orb Factory has impressed me and I will continue to be a lifelong customer! I LOVE their products. I love that they have age appropriate activities for a wide variety of ages, as well as both genders. They have a lot of cool toys for boys.
Great news fans! The Orb Factory is going to give one of you either a butterfly pillow of a treasure chest! The giveaway will run from Feb. 13 through March 1st. It is open to residents of the US and Can! The winner will be verified and contacted through email. They will have 48 hrs to respond before I choose a new winner. Please enter through the rafflecopter below.
Disclaimer: I received the above products free in exchange for my opinion. All opinions expressed are my own, your opinion may differ.