When I first saw the chair covers from ViveVita I thought their purpose was to make your current dining room chairs classy. Once I received the chair covers I realized they had way more purpose than beautification, they are functional.
We have two dining room sets at our house. Our main dining room table has wood chairs. I kind of gave up hope of keeping these chairs nice a long time ago. Between shoe buckles, booster seats, silverware pounding and food being spilled, these chairs have had a rough life up to this point. I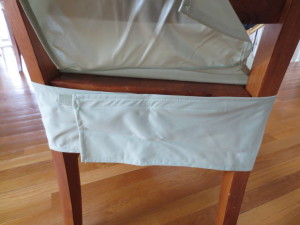 discovered early on to keep the kids on the same chairs, so I only have 2 scratched chairs. Now with these amazing chair covers I don't need to worry.
These polyester covers are washable and waterproof. I love that they have an easy Velcro strap to hold them in place, yet it is hidden with a fabric flap so it still looks nice and elegant.
My second dining set has cushioned chairs. I don't usually let the children use those chairs, as we rarely use that table, but now I have some protection for the cushions if we ever do let the kids use them! I love these chair covers!
The Everyday Elegance chair covers come in five colors: black, Linen, Sage, Brown and Red. You can order your chair covers on Amazon.com.