You cannot believe the amazing things you can find on Etsy. You should really just go browse around and see all the incredible discoveries you will make. One of my discoveries was the Etsy shop named Vegan Sudz Shop. This very cute store sells all natural soaps, healing lotions and lip balms, diaper creams, after shave salves, scrubs and organic liquid Castile soaps. You need to go check out this store! The thing that caught my eye is that she has a HUGE line of natural soaps for kids  in tons of different shapes and colors! They really catch your eye!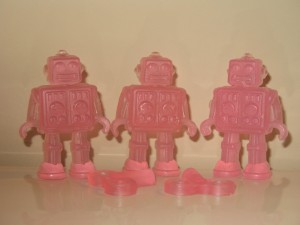 I was lucky enough  to get to try out these watermelon scented robot soaps! (My husband actually licked one to make sure it wasn't a candy because they smell SO GOOD! Nope, they are soap!)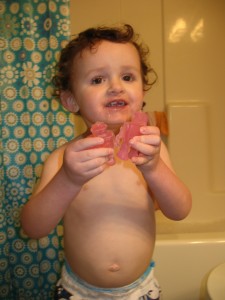 This little army of robots certainly did make for a very fun bath time! My kids do not have a hard time taking bathes. They actually love it. However, we are on our second week of swimming lessons and my kids do not love to coming home and taking off their swimming suits to get into the bath. I know swimming is so much fun, but I, myself, can hardly wait to shower after swimming lessons. Yesterday when we got home from swimming lessons and people were whining while they were  getting out of their swimming suits I held up these guys and the whining immediately stopped. They were so excited to be able to play with them! They didn't even ask for their regular bath toys because these adorable robots were all they needed.
Once the kids were in the bath playing happily, I asked my six year old to start scrubbing with the robot. She didn't really want to because that was interrupting play time, but she complied and then rinsed herself off. The soap left her skin very smooth and it was obvious there wasn't any left over soap residue, it rinsed very clean. I also grabbed a robot (a leg to be exact, my son was a little rough with one!) and rubbed it between my hands, it lathered well, smelled lovely and rinsed completely. I loved the way my hands felt afterwords! I'm a little bit picky about the soap we use in our house. You know when you go to a hotel and wash your hands with that cheap stuff they call soap and it leaves your hands feeling nastier than they were to begin with? This soap is NOTHING like that. It was a DREAM. It left my hands so soft, and feeling clean! I LOVED it!
As we were wrapping up bath time and most of the robots legs had been amputated, my husband got the idea to make some robot captains. We got out our little bath tub boats and let them pilot the ships! That was pretty funny!
Overall we had a great time. The aftermath shows how much fun we had! My kids loved them and I loved them. I love that you have a choice of tons of shapes. I love that she also has TONS of scents to choose from as well. If your kids have a hard time with baths I would definitely try these soaps and see if it helps. You can visit Vegan Sudz Shop on facebook, or check out the etsy store here. The products range in price from $3 for lip balm up to $14 for the after shave salve. A 4 pack of robots goes for $8. I think these prices are GREAT!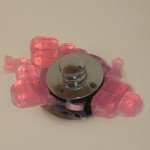 Now for the super fun part! Here is where you get to enter the giveaway for a chance to win your own Robot soaps! This giveaway will run from April 9 through April 13 with the winner being announced April 14th! Remember the rafflecopter takes a minute to load. If you have questions on how to use the rafflecopter this can help.