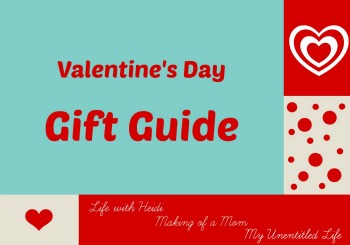 This year Life with Heidi, Making of a Mom and My Unentitled Life have teamed up to bring you an amazing partnership for our Valentine's Day Gift Guide. We have lots of great packages for your brand to choose from with lots of exposure. Each package is customizable to your brand, so if you don't see what you want be sure to ask
Valentine's Day Gift Guide: January 1, 2017-February 28, 2017
Package 1-Review/Group Giveaway + 2 Months Social Media Promotion $250
All giveaways will include up to 7 additional bloggers promoting the giveaway.
Additional reviews are $50 each
Package 2 Review/Giveaway/Ad Space + 3 Months of Social Media Promotion $300
Ad Space is available on all three sites for the duration of the Holiday Gift Guide
Package 3 Twitter/Facebook Parties  $600
This is a great way to reach millions of potential customers. For a party package you will get a post on each of our sites, social media promotion and an hour long Twitter or Facebook party.
Package 4 Ad Space only $200
Ad Space is available on all of our sites for the duration of the Valentine's Day Gift Guide
Package 5 $800
Review/Giveaway/Ad Space/Twitter Party + 2 Months Social Media Promotion