One of my most favorite desserts is Hot Fudge Pudding Cake! This is a very tasty dessert, but it is also a very tricky dessert.
This dessert starts off with the cake on the bottom and the pudding mixture on the top, but after baking it switches places! Very tricky! My favorite recipe for this super yummy dessert is from the Hershey's 100th Anniversary Cook Book.
This book is now 10 years old so you can get it cheap on Amazon.com!
Hot Fudge Pudding Cake
1 1/4 cups granulated sugar
1 cup all purpose flour
7 tablespoons Hershey's Cocoa, divided
2 teaspoons baking powder
1/4 teaspoon salt
1/2 cup milk
1/3 cup melted butter
1 1/2 teaspoons vanilla
1/2 cup packed light brown sugar
1 1/4 cups hot water
Whipped Topping (optional)
Heat over to 300 degrees F. In a bowl, stir together 3/4 cup granulated sugar, flour, 3 tablespoons cocoa, baking powder and salt. Stir in milk, butter and vanilla; beat until smooth. Pour batter into 8 or 9 inch square baking pan.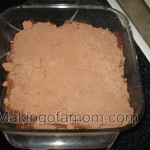 Stir together remaining 1/2 cup granulated sugar, brown sugar and remaining 4 tablespoons for cocoa; sprinkle mixture evenly over batter.
Pour water over top. DO NOT STIR!
Bake 35 to 40 minutes or until center is almost set. Cool 15 minutes; spoon into dessert dishes. Spoon sauce from bottom of pan over top of cake. Serve warm with whipped topping, if desired.
See what I mean? Magic, the pudding is now on the bottom! We don't serve it with whipped topping, we just eat it warm. It is DELICIOUS!! Be sure to get your own copy to enjoy the amazing other desserts in this book! It also has the best brownies I've EVER had, some GREAT mint frosting and other incredible goodies! Enjoy!