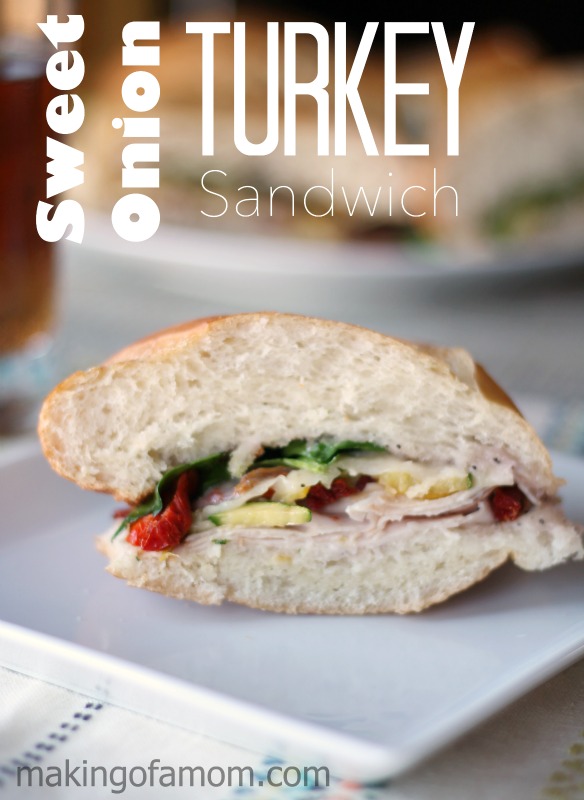 A few years ago we lived in Kansas. During that time we were introduced to the most delicious, homemade salad dressing – a sweet onion vinaigrette. I instantly fell in love with the flavor and so I got the recipe and it made it often for my family. I would make multiple large salads every week so that we could enjoy this delicious dressing. One day my husband and I got in a sandwich mood and we experience sandwich creating magic. All the stars aligned and we created the most delicious sandwich, featuring this delicious salad dressing we already loved.
Get ready to experience sandwich magic in this amazing Sweet Onion Turkey Sandwich. It is so, so good. I'm excited to share it with you and hope you will go on to share it with your family and friends.
Before you can get started on the sandwich you must make the Sweet Onion Dressing that goes on the sandwich. It's really easy.
Sweet Onion Vinaigrette
Ingredients:
1/3 cup white vinegar
1/3 cup sugar
3/4 cup Canola oil
1 tsp poppy seeds
1/3 tsp dry mustard
3/4 TBSP purple onion
3/4 tsp salt
Directions:
Combine all ingredients in a blender. Blend until smooth.
Now that you have the delicious dressing, let's build the sandwich.
Sweet Onion Turkey Sandwich
Ingredients:
French Bread
Zucchini – sautéed
Yellow Squash – sautéed
Sun Dried Tomatoes
Provolone Cheese
Spinach
Sweet Onion Vinaigrette Salad Dressing
Directions:
Assembly is just a few simple steps:
Cut french bread in half and spread Sweet Onion Vinaigrette salad dressing on both sides of the bread.
Layer with Oscar Mayer Selects Natural Applewood Smoked Turkey (though there are other flavors of Oscar Mayer Selects Natural if your interested to try others: Slow Roasted Turkey, Rotisserie Seasoned Chicken, Applewood Smoked Ham and Slow Roasted Roast Beef).
Layer the sautéed zucchini and yellow squash.
Layer sun dried tomatoes.
Layer provolone cheese.
Broil for up to 2 minutes in oven or until cheese is melted and bread is toasted.
Layer spinach.
Cut into individual portions and serve. Will serve 5.
This is a great sandwich to make when you have guests. Everyone we have served it to loves it. We prefer to have the turkey on our sandwich but I'm sure all of the Oscar Mayer Selects Natural flavors would be awesome. Oscar Mayer Selects Natural are my favorite choice because they are made with no artificial ingredients, no artificial flavors or colors, no gluten, no by-products and are minimally processed. Learn more about them here.
Want to get social with Oscar Mayer? Connect with them on
Facebook
and
Twitter
.
I was selected for this opportunity as a member of Clever Girls and the content and opinions expressed here are all my own.