I decided I wanted some girlie spring decorations in fun colors and decided that maybe I could find a way to make some cute little dress. So I searched youtube for some origami dresses, and here is what I found: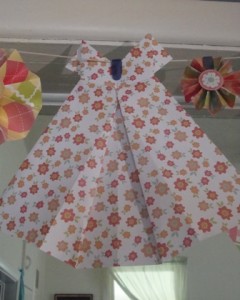 This was the first dress I came across, it was the simplest to make and is my favorite. You can find it here.
The second is very 70's and look like old pictures of my mom! SO fun! Here is the link
The third was the most complicated (I learned a lot from doing the first 2, and I don't think it needed to be that complicated, but it turns out really cute, so I'm not complaining!) It is actually supposed to be a wedding dress, but I love the flare at the bottom. Also very vintage looking. You can find it here.
Then I went to colorbok.com (since that is the craft paper I use) and found a simple way to make some cute pinwheels that help display the dresses.
And last, I simply hung them with some twine and voila! A super cute springy decoration! Thanks to all the wonderful origami artists who came up with the fantastic youtube videos! You rock!