Summer Reading!
By Johanna
July 24, 2012
Blame it on the heat! It's been well over 100F lately; today it was 106F! We've spent many a day lounging about and reading books this summer. My oldest daughter got her very own Library Card this week and she sure does feel like big stuff! It got me thinking of all the fun books we've read this summer and how I'd like to share some of them with you… (I've tried to look up what the reading label ages actually mean, but I can't find very clear definitions…if any of you know, please speak up!)
I seem to have a penchant for being a few years behind on new and trendy books; I received Eragon from a friend of mine and I read it and loved it! Then I read the second book in the series, Eldest and I loved it as well so I ran to the library to get the third book. I didn't even know what the title was (Brisingr), but the other books said it was going to be a trilogy… when I asked the librarian about it, I was informed that there is now a fourth book (Inheritance) and there might just be a fifth book on the way! Whew! So I'll let you know how that goes… This series is labeled for "adolescent" readers. (teens?)
While at a yard sale, I found a book that looked cute- I read it and am so excited to read the others in the series. They are the Land of Elyon books and the first one is called, The Dark Hills Divide. These books are labeled for "pre-adolescent" readers…so like…10ish?
Before bedtime last night, we read all the way through The Dragons of Wayward Crescent: Gruffen. I meant to only read the first chapter or two, but my girls loved it so much, we couldn't stop reading until it was over! Can't wait to get a hold of the other book in the series!  This series is labeled for "juvenile" readers (which is supposedly ages 12-18); but it was perfect to read to my 6 year old.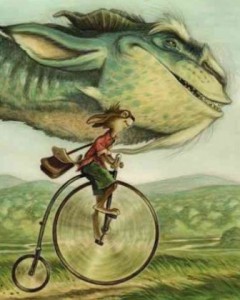 Then we read Kenny and the Dragon, which was another easy and fun chapter book. It is labeled for "youth" and I would say that they are for kids about the age of 10…? There were enough cute pictures to keep them interested, but not so much that it tells the story for you.
Also, I started to read Gail Carson Levine's books-which are some of my absolute favorites- to my girls at bedtime. She has so much fun re-writing fairytales! My kids laughed so hard reading (from The Princess Tales) For Biddle's Sake  and Cinderellis and the Glass Hill. I would also suggest Ella Enchanted, Fairest, and The Two Princesses of Bamarre. All of these books would be good for kids ages 10-16. And don't let the names fool you! Boys will like these fairytales too!
Hope you've all had some summer reading fun of your own!