Since my Valentine Craft and treat posts were so popular I decided to jump on St. Patrick's Day and share some craft and treat ideas I found!
On The Magic of Ordinary Things, she made a darling fabric wreath for St. Patrick's Day! She includes a tutorial and it looks pretty easy. I think I may attempt this since I am lacking in green decorations!
Crazy Home Scenes produced this super cute Shamrock Wreath! I

especially love the glittery shamrocks! She even send you to another to learn how to make that beautiful ribbon bow. My mom and I took a class at Michael's on bow making but we never could figure out how to make a lovely bow!
While we are on the topic of wreaths, how about this super cute felt wreath by My Frugal Family? I LOVE it! And as the name of the blog implies, this wreath will fit into your budget!
Two Twenty One
came up with the CUTEST idea for using things you may already have around your house! She used three candle sticks at different heights and three vases she had (but you can get similar ones at whatever dollar store near you!) She glued the candlesticks to the vases with E6000 (LOVE that stuff!) Filled with split peas and white candles! This is a classy way to decorate for St. Patrick's Day!! I LOVE it! I love the cutesie holiday decorations, but I even more the subtle way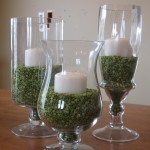 to decorate for a holiday! It is so lovely. I have even implemented this in my house already… see:
Now if you are in the mood to make a cake that will impress everyone who see's it, take a look at this! Pretty amazing, right?! I think this St. Patrick's Day cake would require more effort than I'm up to, but more power to those who can pull this off!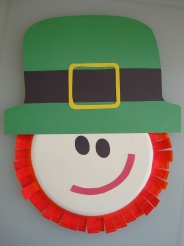 Now we can't leave the kids out of all this fun so here is an adorable craft to make with your children. This paper plate leprechaun is very easy and only requires a few items to complete it. Awesome!
I like crafts that involve vinyl lettering. I do not own any machine that cuts the stuff, so I don't have much of it in my house, but I saw
this tile with St. Patrick's Day subway art and LOVED it! If you do have a machine that cuts vinyl then you need to make this and give some away as gifts! (hint, hint) 
At our house everyday my daughter has to have a flower in her hair. Johanna previously told us about her friend that makes hair bows so I check out her site and look how cute these are! That would be quite the way to avoid being pinched with a super cute bow on your head!
Remember the St.
Patrick's Day giveaway? Well I told you I would show you the set of wood I did for myself. Here is my set all cute in the nook at my house! How is that shamrock floating you ask? I put some tape on the back. I thought it would look better up high instead of sitting on the shelf!
Last but not least I'm leaving you with a website that has a TON of St. Patrick's Day ideas for you to use!! Enjoy!