When I first saw a Sodastream I was a bit skeptical. How could you really be making soda at home? I thought for sure it probably tasted gross. I was intrigued by it to say the least. When I got the opportunity to try out my own Sodastream I was cautiously optimistic.
I received the Fountain Jet model as well as many flavors from Sodastream. Check out this amazing list of flavors we have to try:
Diet Lemon Lime
Rootbeer
Cola
Cola Free
Cranberry Raspberry
Black Currant and Pear
Ginger Ale
Diet Pink Grapefruit
The Fountain Jet also came with a 6 pack of individual flavors to try before you buy the big bottles. Those were:
Rootbeer
Orange
Diet Pink Grapefruit
Lemon Lime
Diet Cola
Energy
Along with those flavors we got some sparkling water flavors. Those flavors are:
Orange
Raspberry
Lemon Lime
Let me tell you after trying a lot of the flavors and making soda every night, sometimes multiple times a night I LOVE this product! We aren't big soda drinkers at our house, but since we got it, we have been drinking a lot of soda. Partly for the yummy flavors and partly because it is so much fun to make! So far we have tried rootbeer, cola, lemon lime, orange, ginger ale, black currant and pear, diet pink grapefuit and cranberry raspberry. Orange and cranberry raspberry are my favorites so far. It is amazing how much this soda taste like what you would get at a restaurant. We didn't care much for the lemon lime, to me that didn't taste like the real thing.
Last night my husband was walking around Walmart and discovered that we could get more flavors there. We are going to try the orange pineapple in hopes that it tastes just like Cactus Cooler!!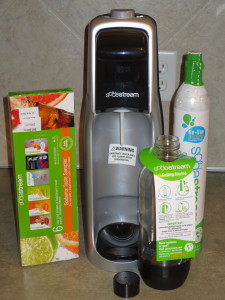 How It Works
So how does the Sodastream work? It is really easy and fast. You attach the carbonator into the back of the machine. You then take your chilled liter bottle of water and screw it into the front of the machine. After about 30 seconds of pressing and quickly releasing the carbonation button on the top of the machine, you will hear a loud buzz, you then press the button two more times, making two more buzzes. The water is then carbonated to a normal amount. If you like your beverages super fizzy, you can press the button a few more times for a super fizz! Once your water is done being carbonated you pour the correct amount of flavor into the bottle while tilting it sideways. Screw on the cap and mix by swirling the bottle to make sure you get an even flavor. And DONE, a yummy soda is ready for the consuming! (You can see my husband was a little nervous to push the button for the first time!)
Sodastream is quickly becoming popular because of its "green" aspect. No more needed to buy cans or plastic bottles of soda. Now you can use the same bottle (s) over and over again. This will drastically reduce your soda trash (and recycling). They talk about recycling a lot in school, so my daughter was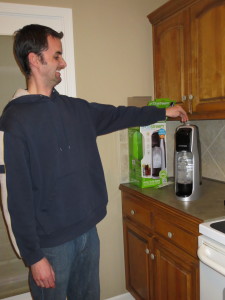 very pleased that we are helping the environment in a small way by reusing our bottle.
You can purchase a Sodastream at many retailers near you such as Walmart, Kohl's, Bed Bath and Beyond, Target, Sam's Club, Costco, Macy's, JC Penny and many more. Once you try Sodastream be sure to let them know you like it by mentioning them @SodastreamUSA on twitter! I was pleasantly surprised to get a response back when I mentioned them! Enjoy your plethora of soda options!
If you have a soda lover in your life I would totally recommend the Sodastream as a gift! This machine is fun to use, produces yummy soda, and is a quality product. Head over to Sodastream and see which model suits you best! If you like my review, head over to amazon and give me some thumbs up!
I received the mention product for review purposes. All opinions are 100% my own.