Disclosure: This post is sponsored by Febreze. All opinions are my own.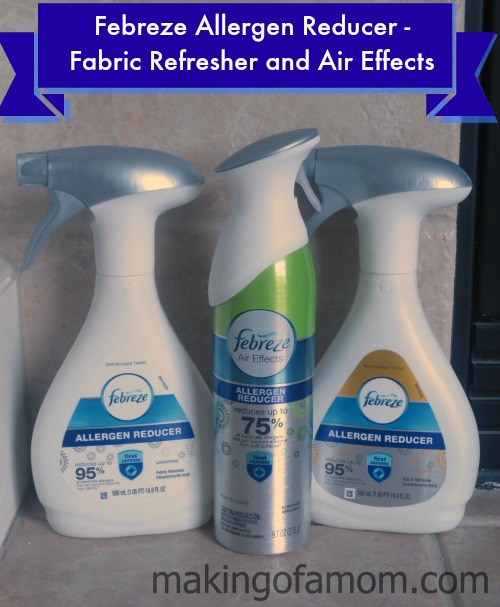 Warmer weather and Spring have both arrived! While this is great news for my family because it means a lot of fun togetherness outside, but it bad news for my allergies. Pollen is flooding the air and getting into my home. I will soon be struggling with my seasonal allergies. This is where Febreze Allergen Reducer saves the day!
When we are outside playing, doing yard work and enjoying the warm weather, pollen can accumulate on our clothing. When we open doors to go in and outside pollen flies into our homes. It basically gets everywhere! It's easy to wash clothes and remove the pollen that gets stuck there. It isn't easy, however, to wash a couch or a chair or other furniture or carpet. This is where having an easy-to-use spray will help. Simply spray the Febreze Allergen Reducer over the soft surfaces of your home and the Febreze technology will trap 95% of allergen particles until you remove them by vacuuming.
I normally don't care for smelling sprays but Febreze sent me a couple of scents that I liked. I got three different kinds of the Allergen Reducer – unscented, freshly clean and clean splash. The two scented ones smell light and refreshing. The smell isn't over powering, it is lightly there. It really leaves your room fresh and feeling like a safe place to breath.
Check out this info graphic to help you understand where allergens come from and how Febreze can help solve the problem in your home:
Febreze Fabric Refresher and Air Effects Allergen Reducer is available at major mass market grocery and drug store retailers nationwide. Eliminate odors and reduce indoor allergens with Febreze Allergen Reducer.