Past Recipe Recurrence
By Johanna
April 26, 2012
Every once in a while, we each stumble across a great recipe that we promise to continue creating until perfection for countless days. However, as soon as a new treat comes along, we stick the old one into a box and rarely look back. A few weeks ago, I was reminded of a delicious recipe that returned to my life through a newspaper sidebar. My children remembered this delicious strawberry pretzel dessert and insisted that I make it again. Having not created this dish for several years, my family was impressed by the refreshing reminder of the memories it brought back.
We were introduced to this dessert by a dear friend who was incredibly talented. The recipe I found was not exactly the same, but the similarities allowed me to critique it to how we were used to it. The rush and perfect balance of salty and sweet that enters the mouth is a sensational experience.
Strawberry Pretzel Dessert
3 tbsp. sugar
2 cups Crushed pretzel
¾ cups melted butter
Mix and bake the above ingredients at 350 degrees Fahrenheit for 15 minutes.
1 (8oz.) package cream cheese
½ cup powdered sugar
1 carton of cool whip
2 cup miniature marshmallows
Mix the above ingredients and set aside.
1(6oz.) package of strawberry jello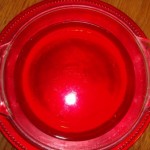 Soften cream cheese, add powdered sugar and cool whip, and fold in marshmallows. Spread over cooled baked layer. Dissolve gelatin in water. Stir in strawberries. Chill until slightly thickened. Spoon over cream cheese layer. Refrigerate.
Angelique is a wife and mother of 4 children. She is also my sister-in-law! She is a WONDERFUL chef and we always look forward to her cooking at family gatherings…except when she shows up my Christmas Punch! A big THANK YOU to my niece, Brittany, for the awesome photos!