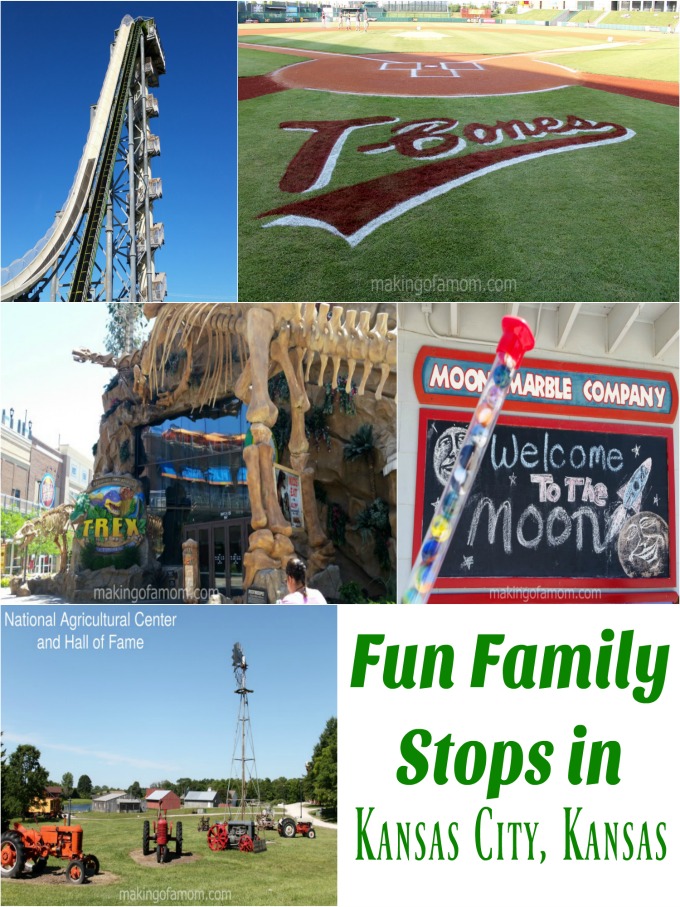 In June I had the pleasure of accompanying
Visit Kansas City, Kansas
on a press trip. It was a lot of fun to stay somewhat local and explore locations I'd never been before. All of our stops were perfect for families and got added to my family's summer bucket list. I want to share with you the fun family stops in Kansas City, Kansas we made, so you too can add it to your travel lists.
While the National Agriculture Center and Hall of Fame may not sound like the most fun stop, it really is. With the purpose of educating the public on the historical and present value of American agriculture, it has a lot of fun and interesting exhibits. Bonus, your whole family and ride a train, and who doesn't want to do that?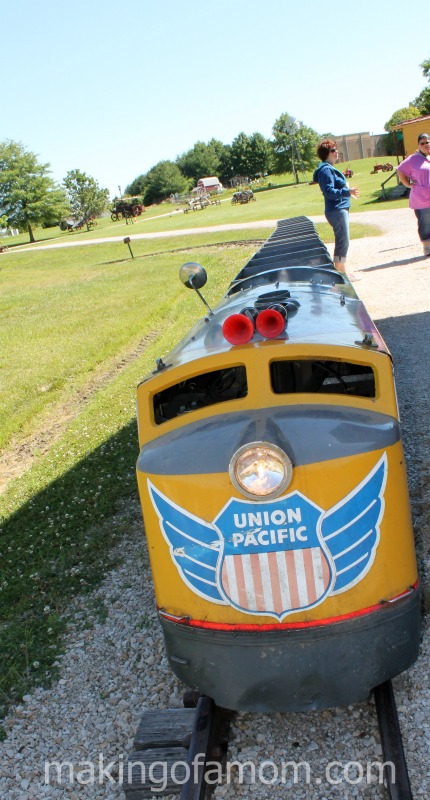 While you should plan 2 1/2 to 3 hours for your visit, we only had an hour so we took a very quick tour. We saw their museum of art, gardens, bees (save the bees!), farm town (where we rode the miniature Union Pacific train), and the museum of farming.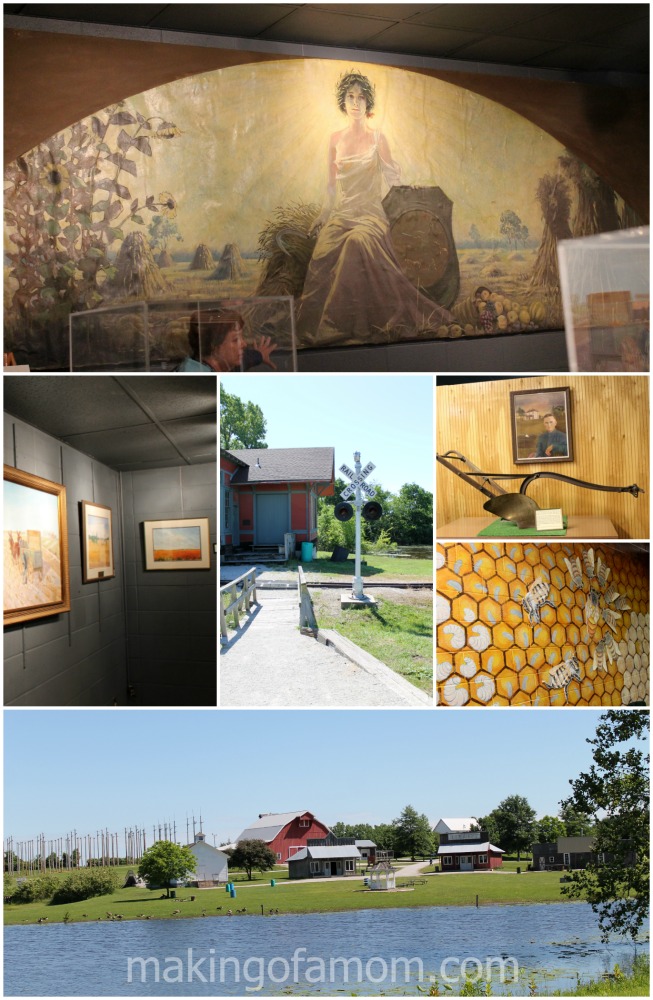 The National Agricultural Center and Hall of Fame is open April to November and has a suggested donation of $5 per person, kids 4 and under are free.
Not too far away from the National Agricultural Center and Hall of Fame is the Moon Marble Company. This darling, and eclectic store is a really fun stop for a family. Not only is half of this location a retro toy store, they also have marbles of all shares and colors available for purchase.
Also, starting at 10am during the summer (they do have demonstrations during non-summer months but they aren't as scheduled) there is a marble demonstration every 30 minutes. This is an incredible demonstration where one of the employees walks you through step by step of making a marble. It was fascinating to watch.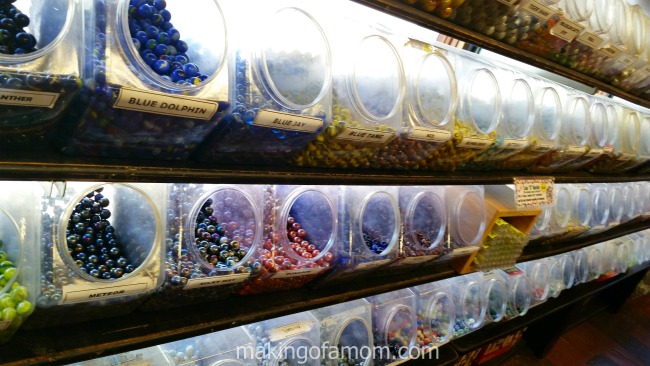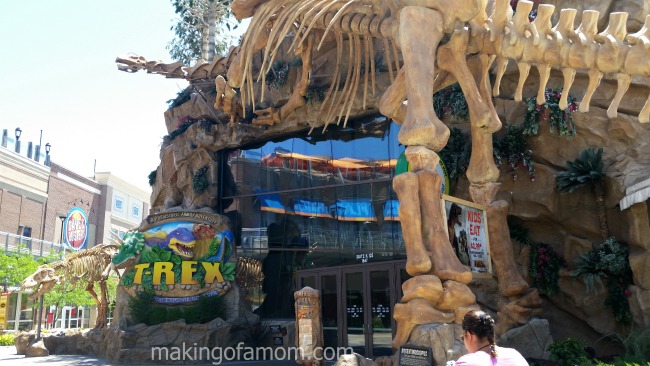 By this time we were all ready for some lunch. Off to Legends Outlets for a prehistoric lunch at T-Rex Cafe. I have been to this restaurant several times with my family. It's a really fun themed restaurant so I was happy to go back. We were able to take a tour of the restaurant to see all the dinosaurs throughout. We also were able to visit the Paleo Zone where you can dig for fossils, pan for gems and walk in a cave filled with gems.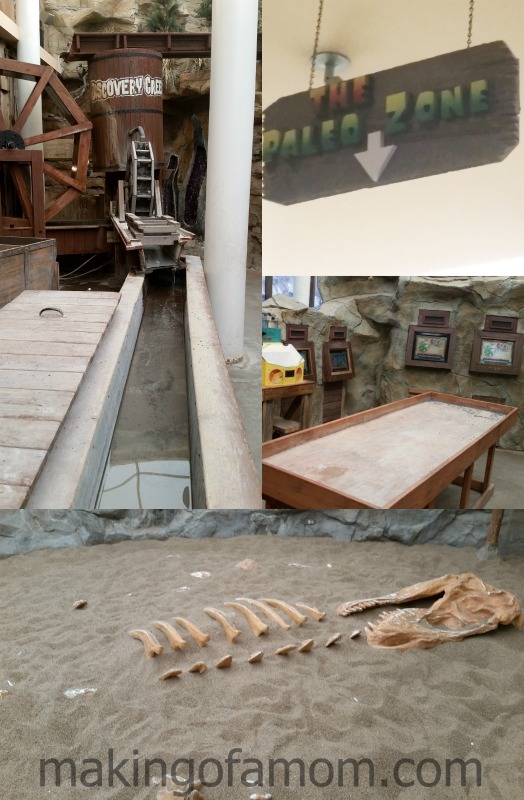 The menu at T-Rex Cafe is large and delicious. We tried several appetizers in addition to our lunch entrée. I decided to get a bacon cheese burger which also came with it's own mini fryer of french fries. It was SO BIG and so good. I think the menu has changed since my family last visited so I want to take them back to try some new foods.
After lunch we participated in a Legends Scavenger hunt. These hunts are available to everyone. We had a lot of fun learning a little more about the Legends Outlets. There is also a free walking audio tour if your interested in learning more about the Legends featured in the outlet.
Great Wolf Lodge
Right down the street from the Legends Outlets is Great Wold Lodge. My family has also had a little staycation there before. We love it! I felt a little bad staying at Great Wolf Lodge without my family but I got over it. It was so much fun! We took a tour of the property including the lobby, water park, and common areas. We learned about the fun MagiQuest game that kids can play with a wand throughout the hotel, we also learned about the fun kids activities including story time, games and crafts. We also learned that in the water park the air temperature and the water is at a balmy 84 degrees so as to make sure there isn't any condensation on the windows, it also makes the water a very comfortable temperature. This is a fantastic place to stay with your family. With several restaurants and tons of activities, this is an awesome family vacation. For a full review, you can read my family's previous experience at
Great Wolf Lodge
.
Before this trip I didn't have a clue that there was another baseball team nearby. I was really excited to learn this is where we would be spending our evening. We took an awesome tour all the way around the field and the headed up to our private suite to enjoy the view and some awesome ball park food for dinner. This was my first time sitting in suite seats and it was so incredible.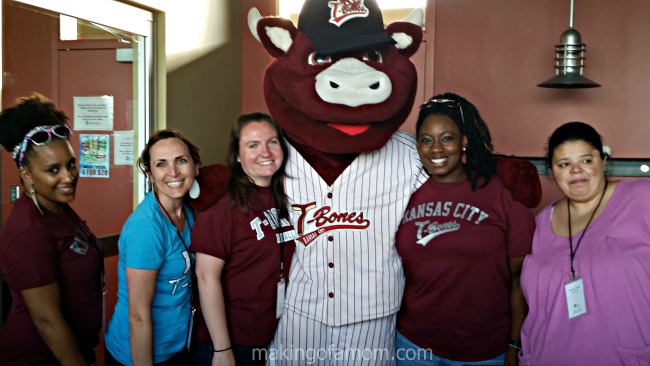 You definitely want to plan a game with your family because parking is free, the stadium is small which makes it very personal, and tickets start at $6.50 for general seating! Seriously, this is a super fun, inexpensive evening for your family.
Our most favorite water park is Schlitterbahn. It is a family tradition for the past 5 years to visit Schlitterbahn in the summer so I'm glad this was our final stop on the Kansas City, Kansas trip. My family was also able to join me for the day making it even better. One of the challenges for the day was to conquer Verruckt, the tallest waterslide in the world.
You must climb 264 steps to get the the top. It's 15 stories tall – taller that the Eiffel Tower! I was so scared. When I got to the top I wondered why I let myself fall ito peer pressure when I'm in my 30's, but regardless of the fear I did it! And survived! And it really isn't as scary as it looks. You sit in a 3 person raft and wear seat belts. You can watch all the fun here:
We LOVE schlitterbahn
for lots of reasons, and now Verruckt is also one of them. After a full day of swimming, sliding, riding tubes, enjoying rapids and waves we were exhausted. We closed down the park and had the best time doing it. Until next year Schlitterbahn.
Kansas City, Kansas has a TON to offer, this is just a small sampling. I love how family oriented the city is. If you haven't been, put it on your travel list. If you have been, plan to go again and visit some of these great options. I can't wait to take my family back to all of these places and continue exploring Kansas City, Kansas.