I've teamed up with Walmart.com to tell you all about their movie selection. All opinions 100% my own.

Have you browsed the Walmart.com children's movies selection recently? Well they have some awesome movies for super low prices! As I was browsing I started finding all these great Halloween movies my family loves, so I thought I'd share some of my top family friendly Halloween movie picks – in case you want to have some spooky family fun this month! We love to have family movie night with food and treats that is themed on the upcoming holiday!!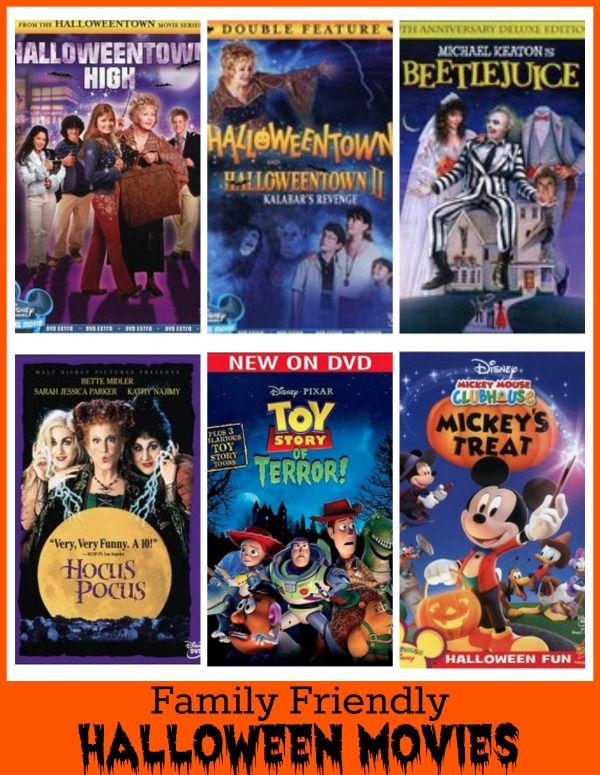 Family Friendly Halloween Movies from Walmart.com
Check out the great prices of these movies!
Halloweentown High $9.12
Halloweentown & Halloweentown II $13.36 – Two movies!!
Beetlejuice $5.00 – I don't like this movie, but I know some people this it is a classic Halloween movie and it's only $5!!
Hocus Pocus $6.98 – This is my all time FAVORITE Halloween movie! So cute!
Toy Story of Terror $9.96 – I recently reviewed this DVD. It is a new Toy Story short and then features all other Toy Story shorts. It is a wonderful movie to own if you have kids that love Toy Story!
Mickey Mouse Clubhouse Mickey's Treat $9.29 – This has cute written all over and especially fun for younger children.
There is still time to order these Halloween movies on Walmart.com or check out their HUGE selection and find another family favorite. We will be having several family movie nights as we get closer to Halloween!