As I was browsing Etsy one day I came across Cake in the Morn, a store that sells felt stories, flannel boards, puppets and toys. The toy that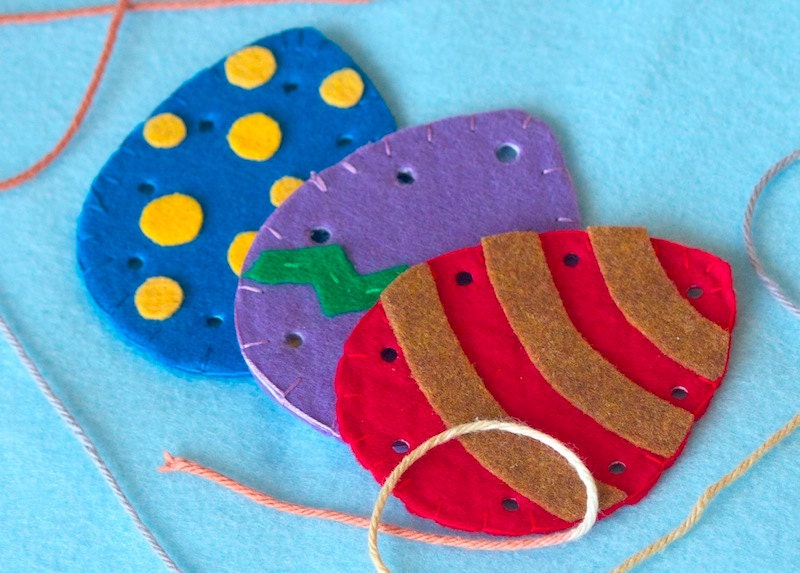 caught my eye was her Easter Egg Lacing Cards. We have had lacing cards at my house before but they have always been cardboard, and therefore the holes rip when little hands are trying their best to "sew" on them. I thought the felt lacing cards would be a better idea for the little hands at our
house and wouldn't rip. I was concerned, however, that they might be flimsy. After all felt is not that strong by itself. Once I received my card (as pictured on the left) I knew right away that this was NOT a flimsy toy. There were several layers of felt on it making it very sturdy to "sew" on. I also appreciated that the yarn had plastic on the tips so it could easily pass through the holes. This was extremely important in my 2-year-old having success with the card.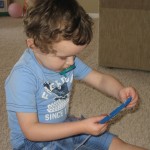 I first let me 2-year-old son play with the egg. At first he examined it, but then he jumped right in seeming to know exactly what to do. With every stitch he made he would ask "like this?" and I would tell him he was doing a great job. He was very careful with each stitch but then would toss the egg to make the yarn go through the hole faster. I thought he was very clever to make a game out of it. When he was finished playing he held it up for me to see his design and take a picture. (sorry about the binki, he had orange cracker crumbs all over his face so I let him keep it in his mouth to hide the crumbs!) He was very proud of all his stitches!
My 6-year-old daughter loves lacing cards. She likes to make different patterns and try different stitches she makes up. I gave her the egg to play with and she enjoyed it.
She was very particular with how she wanted the egg to look. Look at how hard she was concentrating, she's got her tongue sticking out and everything!! She was also proud of her work and that she got the stitches all lined up the way she wanted. Both of my kids had a fun time playing with the egg lacing card! We will definitely be taking this to church with us and in the car! What a great quiet toy!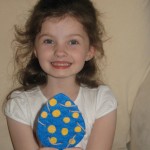 You can get your own customizable Easter Egg lacing cards and other felt toys at Cake in the Morn. Heidi is happy to make you eggs in any color combination you want. The eggs are $4 a piece or you can buy them in sets for a bulk rate. Heidi will be happy to customize your order for exactly what you need! You can also check out Cake in the Morn on facebook and get updates as to what is going on with the store!