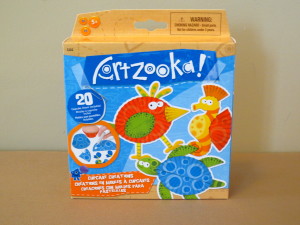 How clever is it to have a craft kit full of everyday household items? Artzooka! kits from Wooky Entertainment have done just that! This cupcake creation kit is just one of their many craft kits that use common items in your house. This kit, of course, comes with everything you need, but my point is, when this kit is over and done, I can still make more cupcake animals with my own cupcake papers now that I have learned the folds! Fun!
My daughter had a really good time making this darling cupcake paper animals. The directions were pretty simple, but she did require some help in the beginning figuring out all the folds. Once she got the hang of the folds, she was off on her own!
This fun activity made a great night of entertainment for her, and she was at it for about 2 hours. I think for only costing $3.99 these kits are well worth it based on the amount of time they occupied and the sense of satisfaction at completing a darling craft.