Art projects are very popular at my house. My kids love to color and create. I love that they love to do this. It is great for them to be able to use their imaginations and take flight into whatever creative world they wish to visit! My son loves to color, but he also loves to build. What a genius idea to combine those two activities! Wooky Entertainment was super smart in bringing us Block Crayons.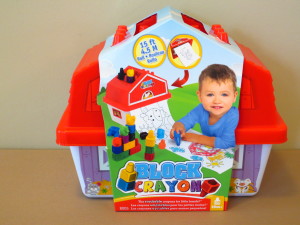 I received the Color and Stow Farm block crayon set for my kids to try out. They of course loves it as it fulfilled my daughters desires to color and my sons desires to build. This adorable set came with block crayons as well as a couple shaped crayons. There were two horses and a little farmer girl.
This playset also came with a roll of paper that is attached to the lid of the barn so it can unroll from there. This also makes it easy to rip off pieces of the roll to color or when you are done coloring. This whole system was very well thought out, except for the roof of the barn. If you notice there is a handle, but the lid doesn't snap into the bottom so you cannot carry the toy around by the handle without the bottom falling out. Besides that minor detail, this toy rocks!
Disclaimer: I was given this product free of charge, for review purposes. All opinions are my own. Your results may vary.