Beeps' Peeps Car Mat Review and Giveaway
By Stefanie
September 17, 2012
I feel like we often have a lot of girl items to giveaway on this blog so I went on a quest to find an awesome boy toy! I definitely found it when I stumbled upon Beeps' Peeps Etsy store. Check out this:
This is an On-The-Go car mat! This cute play mat has a street for toy cars to play on as well as 3 pockets to hold 3 matchbox sized cars.  It folds up nice and small, perfect to fit in a diaper bag or purse. This mat is VERY sturdy, made with durable fabrics. There are also washing instructions for the inevitable sticky fingers from little hands. 
I love the cute cars fabric on the outside! As soon as I handed it over to my son he unfolded it and kept saying over and over "I love it Mom!" When my husband got home from work he ran up and showed him the mat and told him how much he loves it. Even if he doesn't have a car in his hand to play with the mat, he is still carrying it around with him reminding us how much he loves it!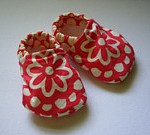 Not only does Beeps Peeps carry these cute On-The_Go Car mats (they have a girl version as
well) they also carry some cute little booties made from different fabrics, custom onesies, totes bags, throw pillows and other cute crafts as they get sewn!
How can you get your own car mat?
Buy It
Visit Beeps' Peeps and get your own car mat for boys or the girl version. They sell for$25 plus shipping.
Win It
Beep's Peeps has generously offered the readers of Making of a Mom a giveaway for a chance to win a car mat of their own! You can pick from the boy version or the girl version of the car mat! The giveaway will use the rafflecopter entry form. Remember it takes a moment to load. The giveaway runs from Sept. 17 until Sept. 26.
Disclosure: I received a free product in exchange for my honest opinion.