Hi all.  Heather here from The Black's Best.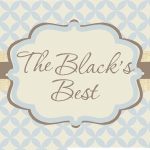 I am really excited to be guest posting at Making of a Mom.  I'm still working on making myself
the kind of mom I want to be.  However, four wild and crazy boys, all under eight, make me break
that commitment from time to time.  I love the little buggers but they sure can make me want to
pull my hair out some days!
Well, in the little bit of time I have to do crafting, I decided to get started on something that feels a
bit spring like.  I have been admiring all of the projects out there using burlap and wanted to
incorporate it into my decor this year, so I decided to try using it for a table runner.
With all boys, I don't get to do many thing with ruffles, but I decided a had to add some to this
little runner.  Before that though, I want the edges of the runner to have a bit of fray.  To
get that effect, I pulled out several rows of burlap string and then stitched down the sides of the runner
so there wouldn't be any more unwanted fraying.
Now the  ruffle.  You can see that I hemmed one side of about a 4 1/2 inch wide fabric
strip, and then placed it right side to my runner along the short sides.  I created a ruffle by pinning
very non-exact pleats and then sewing a stitch along the edge to secure the ruffle.
I then decided to put another couple of ruffles laying crosswise on the top of the runner.  I know
you can make a ruffle on your sewing machine by playing with your settings, and believe me, I've tried
it.  My little cheap machine just doesn't have it in him to do this though (yes my machine is a he,
it's a long story, don't judge), so I get to do it by hand which really isn't a big deal.
I just took my needle and put a quick running stitch through another strip of fabric.  I made
this strip by cutting about an 8 inch wide piece of fabric which was twice the width of my runner in
length.  Following me?  Ok, good.  Then I folded the strip lengthwise, right sides
together, and sewed down the long side and one short side.  After this, I turned it inside out,
folded my last short side in, and topstitched it together.  Finally, I pressed this fabric strip with my
long seam in the center of the side that would lay against the runner.
Once my running stitch for the ruffle was done, I spaced the pleats somewhat evenly and pinned in
place.  I removed my running thread used for ruffling and then sewed a stitch on my machine
down the middle of the ruffle.  Phew! (Wiping my forehead.)  It seems like a ton, but really,
it was easy.
After I had all of my ruffling done, I took a piece of sating ribbon and sewed as close to each edge as
I could get to secure it to my runner.  I kind of like the fancy satin against the roughness of the
burlap.
Here it is from the other end.  I put my little terrarium, and a few other what doodads on for my
centerpiece until I make something else to replace them.
CA-UUTE, if I do say so myself, plus pretty simple and fun to make.  I finally have something made
from burlap.  Now I need more
What will I do next with it?
Feel free to stop by any time to see.:)
Thanks for having me Stefanie!  I hope you all have a great weekend.